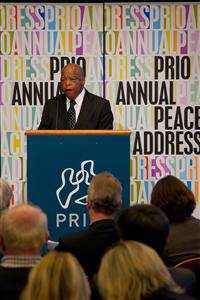 US Congressman John Lewis gave the PRIO Annual Peace Address 2011, titled The Role of Nonviolence in the Struggle for Liberation. Lewis has been a Member of the US House of Representatives for the Fifth congressional district in Georgia since 1987. He was a prominent leader in the nonviolent civil rights movement in the early 1960s and President Obama has recognized his role as a source of inspiration. In February 2011 John Lewis was awarded the Presidential Medal of Freedom, the highest US public award for civilian service.
Comments were provided by Kathleen Cunningham, Assistant Professor, University of Maryland and Henrik Syse, Senior Researcher at PRIO.
About the PRIO Annual Peace Address
The PRIO Annual Peace Address invites distinguished guests to reflect on how to contribute to the creation of a world in which violence is the exception and peace is the norm. The lecturers include scholars, policy makers, writers, artists and others with a distinct voice on peace and war matters on the world scene.
PRIO is an international research institute whose overarching purpose is to conduct research on the conditions for peaceful relations between states, groups and people. The institute is independent, international and interdisciplinary and explores issues of peace and conflict. PRIO's research agenda reflects the institute's overarching purpose, yet PRIO is both proactively involved in identifying new trends in global conflict and oriented toward formulating and documenting new understandings and responses.
The PRIO Annual Peace Address is an important part of our efforts to create awareness, stir public debate and increase understanding about the conditions for peace in the world. We hope that the PRIO Annual Peace Address can challenge the peace research community by suggesting new measures and bringing new perspectives on peace and war. The questions asked and the answers sought can only be improved by critical challenges.