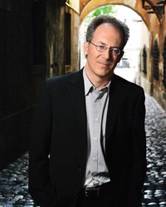 This event is cancelled!
PRIO is happy to invite you to a seminar with James Der Derian, who is currently a Vistiting Researcher at PRIO.
This multimedia presentation is inspired by a series of events that took place in February 2011 around the effort to negotiate a memorial in Berlin on the occasion of the 100th anniversary of the birth of President Ronald Reagan. A thought experiment with images is constructed to consider whether these events, produced by the ubiquity, interconnectivity and reflexivity of global media, are symptomatic of a new quantum diplomacy.
Comments: Iver B. Neuman, Acting Director of the Norwegian Institute for International Affairs
Chair: J. Peter Burgess, programme leader at PRIO and editor of Security Dialogue