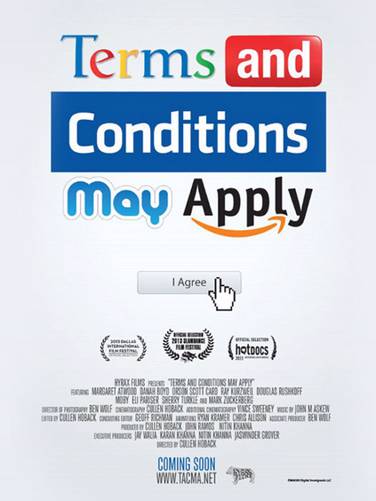 Every day, we leave behind large amounts of personal data on the internet, allowing companies such as Google and Facebook to use this information for various purposes. How much should we worry about the loss of online privacy, and in what ways can we protect it? Jon Wessel-Aas and Lee Andrew Bygrave will discuss these questions in a panel debate moderated by Rocco Bellanova (PRIO). The debate will be followed by a screening of the documentary Terms and Conditions May Apply, as a part of the programme of the Human Rights Human Wrongs film festival which takes place in Oslo from 4-9 February 2014.
Tickets
Please follow this link to buy tickets to the screening and debate.
Tickets are 100 NOK, and can also be bought at any Oslo Kino cinema. The film will be screened several times, so make sure you get tickets for the screening at Sunday 9 February.
The speakers
Jon Wessel-Aasis a partner at Bing Hodneland and is specialized within the fields of broadcasting and media law, human rights law, including freedom of expression and privacy law, intellectual property law, data protection law and litigation.
Lee Andrew Bygrave is a professor at the Norwegian Research Center for Computers and Law (University of Oslo), and has published extensively within the field of privacy/data protection law.
Rocco Bellanova is a researcher at the Peace Research Institute Oslo (PRIO). His research focuses on questions of privacy and data protection as applied to security and surveillance practices and technologies.
Terms and Conditions May Apply (Cullen Hoback, 79', 2013, USA)
Do we consent to total surveillance? Corporations are following our every move online, we're not in control of our cyber presence and nothing we do is exempt from being used for commercial purposes. Now we know our governments are in on it too. Can we continue to call our societies functioning democracies when our governments are watching our every move?
Human Rights Human Wrongs
The 6th edition of the documentary film festival Human Rights Human Wrongs takes place in Oslo from 4-9 February 2014. The festival screens current documentary films about human rights issues, and organizes debates and cultural events associated with the films.
The full festival programme is available here.