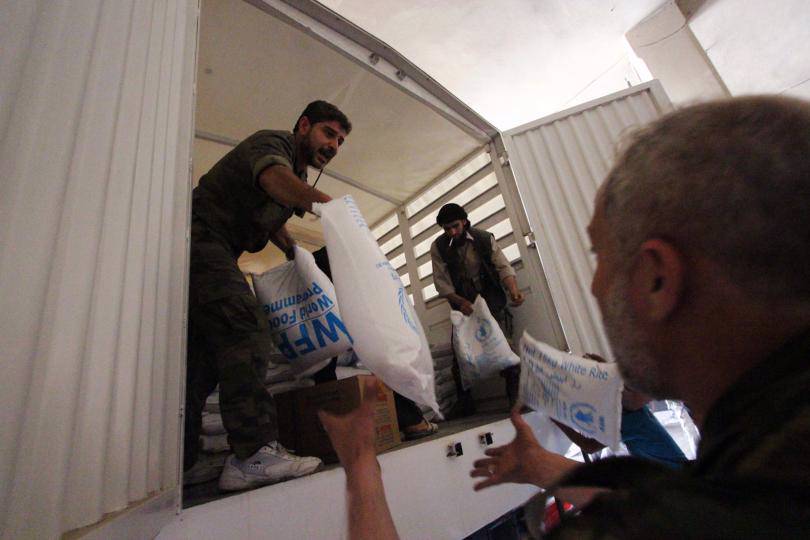 On September 30, the Syrian Peace Action Centre (SPACE), the Norwegian Centre for Humanitarian Studies (NCHS) and Peace Research Institute Oslo (PRIO) will host a roundtable discussion on the Politics of Humanitarian Aid in Syria. This event is for invited guests.
Background
Delivering humanitarian aid in conflict situations has always been difficult. Syria is proving to be no exception. This panel aims to examine the contesting reality of politics and humanitarian principles with regards to aid distribution in Syria.
Despite their remarkable resilience and determination, Syrian aid workers are often criticized by international actors for lack of compliance with humanitarian principles — specifically for mixing politics with humanitarian work. Additionally, Syrian aid organizations are perceived to be lacking the institutional capacity, skills and operational standards to respond to such complex humanitarian emergencies. Against the changing battle lines and shifting alliances on the ground and between external powers, UN agencies and international NGOs are faced with a difficult task as they start to establish and expand their partnership with local actors operating in areas where international staff has no access.
Conversely, Syrian civil society groups have repeatedly expressed skepticism and mistrust towards some international aid organizations, especially the UN agencies, for the way they are implementing humanitarian principles. This criticism has materialized into a report published by the advocacy group The Syrian Campaign in June 2016, as well as a comprehensive investigation by The Guardian published in August 2016. The report accuses the UN of jeopardizing their impartiality, neutrality and independence by working closely with the Syrian government and concentrating their largest humanitarian efforts in the government-controlled areas.
Notwithstanding the Syrian cross-border response's heavy dependence on local aid groups, Syrians deplore being used as subcontractors rather than equal partners, bearing an unfair share of risks and lacking contextualized and flexible funding approaches adopted by donors.
In the conflicting perceptions about the possibilities and limits of humanitarian aid, local Syrian discourse remains disconnected from its international counterparts. Such a disconnect has a negative impact on the civilian population and fosters mutual distrust among key humanitarian actors. This has culminated in 73 Syrian aid groups announcing the suspension of cooperation with the UN on 8 September, 2016.
Norway has been at the forefront to both provide and politically coordinate humanitarian assistance for Syria. Moreover, its principled and trust-based approach enables the Norwegian donor community to mediate between actors representing the different sides of the debate, and to leverage accountability of all relevant stakeholders.
The roundtable panel will try to address these questions:
How is it possible to maintain a neutral and impartial space for humanitarian aid in Syria?
How do politics influence the priorities of the largest UN assistance operation in decades? Whose responsibility is it to enforce and adhere to the humanitarian principles?
What role can Norwegian donors and organizations play to restore the trust between Syrian aid organizations and UN agencies?
How can Norwegian donors and organizations strike the balance between strengthening and institutionalizing their Syrian local partners to fulfil their (often politically-loaded) vision, while ensuring adherence to international humanitarian standards?
Programme
Welcome and Introduction : Maria Gabrielsen Jumbert (PRIO)
Presentation: Bissan Fakih (The Syria Campaign)
Presentation: Reinoud Leenders (King's College London)
Presentation: Marcell Shehwaro (Kesh Malek)
Comments: Kathrine Raadim (Norwegian People's Aid)
Comments: MFA representative
Chair: Marte Heian-Engdal (PRIO)
Note: Participation in this event will be by invitation only.
Panelists
Bissan Fakih (Deputy Director, The Syria Campaign) runs campaigns related to the protection of civilians in Syria. Her work is focused on breaking the sieges, supporting the White Helmets and elevating the voices of civilians in Syria trapped between ISIS and Assad government forces. She is the author of the report accusing the UN of taking sides inside Syria, which involved dozens of interviews with current and former UN staff and humanitarian workers inside Syria.
Reinoud Leenders (Phd, SOAS) is Reader in International Politics and Middle East Studies in the War Studies Department at King's College London. His work deals with the political economy of corruption, authoritarian governance, refugee issues, and conflict in the Middle East including Syria. He has been studying the UN's handling of money and local partnerships in Syria. Leenders contributed to The Guardian's recent investigation about the tens of millions of US dollars funneled by the UN to companies and agencies owned by or directly linked to Syrian regime officials.
Marcell Shehwaro (Director, Kesh Malek) manages Kesh Malek, a Gaziantep-based Syrian organization with over 300 staff members inside Syria, running advocacy and educational projects in Aleppo and Idlib. Shehwaro participated in many regional and international conferences and panel discussions about education, activism and the Syrian civil society, including the NGO conference that preceded the Supporting Syria London conference in February 2016.