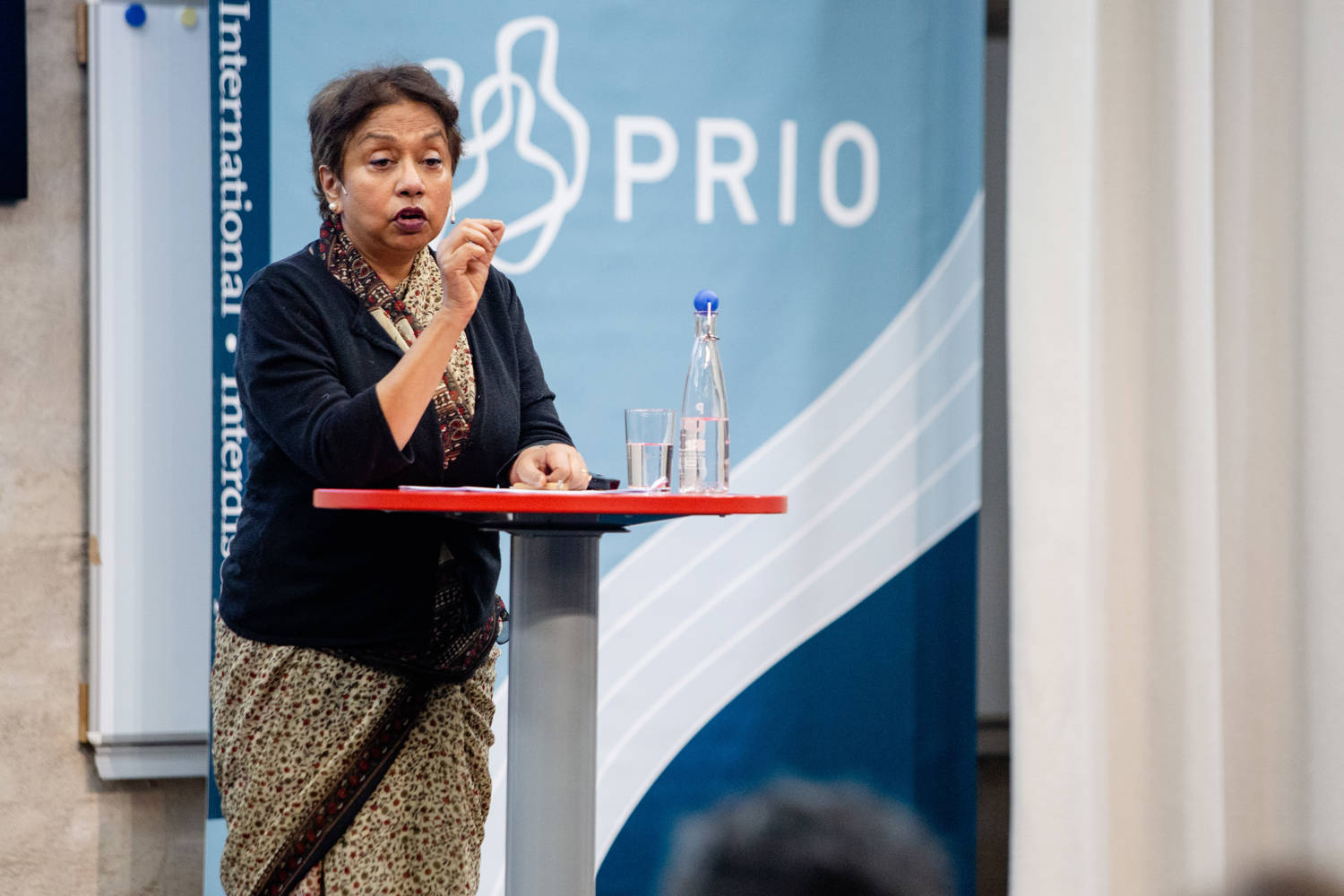 Guha-Sapir is the Director of the Centre for Research on the Epidemiology of Disasters (CRED) and a Professor at University of Louvain School of Public Health in Brussels, Belgium.
Morten Rostrup commented and discussed alongside Dr. Guha-Sapir and PRIO Director Henrik Urdal after the keynote address. Rostrup is a Senior Physician at the Department of Acute Medicine, Oslo University Hospital, and Professor at the University of Oslo. He co-founded the Norwegian branch of Médecins Sans Frontières, and is the former President of the MSF International Council. He has been field MD on many MSF missions.
The purposes of crises death tolls today are many and extremely diverse. They can be used to draw attention to neglected humanitarian crises (Yemen), to prosecute war crimes (Darfur), and to boost resilience and response planning (for instance in the case of violent deaths or death due undernutrition and disease). Now, political accountability has also joined this list, for civil conflicts as well as for natural disasters.
But controversy dogs the footsteps of academics and non-governmental organizations who estimate death tolls. Counting the dead has become a partisan issue. Exaggeration and underestimation of deaths from armed conflicts is common, problematic, and leads to protracted disputes that distract attention from conflict resolution. Controversies around the alleged Darfur genocide, Iraq death toll, and mortality in Democratic Republic of Congo revealed the political implications of what was previously a rather quiet marginal enterprise interesting only to number-crunching researchers. No longer. The humanitarian community is increasingly under the microscope when threats of widespread hunger, disease and increased mortality remain neglected.
The global community must now reflect and look forward to exploring the next steps in measuring the human impact of civil conflicts. We must reflect on the best pieces of information that could be collected to improve survival of conflict-affected communities and refugees. We must also explore the methodologies to do this, which have come under scrutiny as demands for accountability increase.
Prof. Guha-Sapir has published widely on topics related to public health in civil conflicts and natural disasters and influenced the thinking in this field for epidemiology. She has advocated for the importance of evidence in measuring the human impact of conflicts and has been instrumental in initiating some of the key evidence platforms on conflict and disasters today.
Prof. Guha Sapir is member of the Royal Academy of Medicine in Belgium and was awarded the World Association of Emergency Medicine Peter Safar Award. She has given keynote speeches in various academic fora including the Norwegian Academy of Sciences. She is currently member of the Lancet Commission on Syria, whose report will be out early 2019.
Read more about the PRIO Annual Peace Address by clicking here.