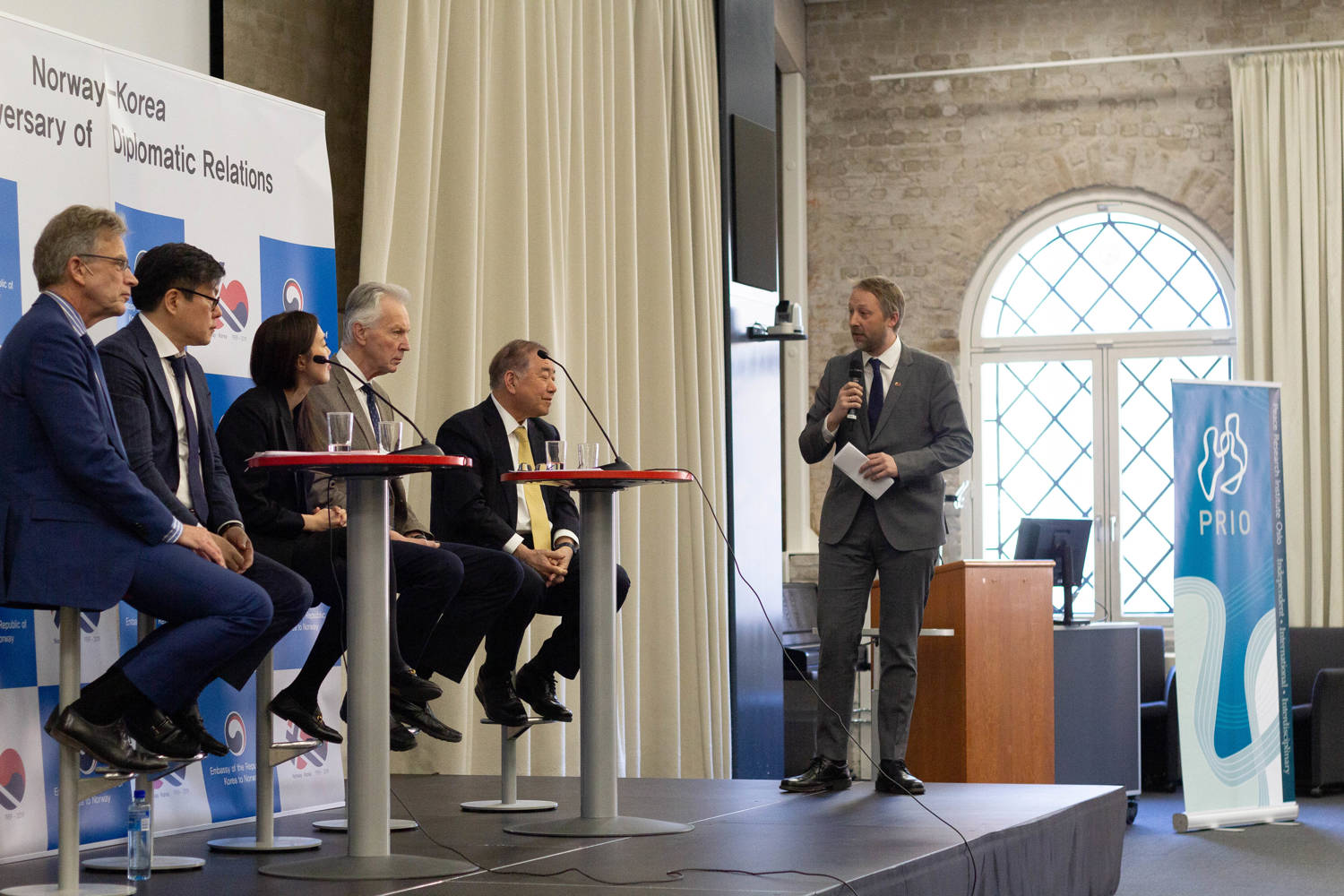 Welcome to a seminar co-hosted by the Embassy of the Republic of Korea and PRIO.
In 2017, peace on the Korean Peninsula seemed like a distant dream. North Korea carried out an unprecedented number of nuclear and missile tests; threats and invectives were exchanged between Pyongyang and Washington; and the UN Security Council adopted new and harsher sanctions against North Korea.
2018 transformed the dream into what seemed to be a real possibility. There were no more tests. North Korea accepted South Korea's invitation to send representatives to the PyeongChang Winter Olympics, and a whirlwind of summits followed, including inter-Korean summits between President Moon Jae-in and Chairman Kim Jong-un, and summits between Chairman Kim and China's President Xi Jinping. A friendly summit was also held in Singapore in June between Chairman Kim and US President Donald Trump. They agreed to aim for the denuclearisation of the Korean Peninsula. After 65 years of a tense ceasefire, it seemed that peace was within reach. More US-North Korean talks were held, and plans for inter-Korean cooperation were moved closer to implementation.
Then a second Kim-Trump summit was held in Hanoi on 27-28 February 2019. When it broke down, the same old question re-emerged: Is peace again just a dream, or is it still a real possibility?
What were the reactions in South Korea to the breakdown of the Hanoi summit?
Can rapprochement between the two Korean states continue?
Are productive talks between Pyongyang and Washington still possible?
Is there a real chance that North Korea will denuclearize?
What role could Norway and Europe play?
No one is better positioned to discuss these questions than Professor Chung-in MOON of Yonsei University in Seoul, the keynote speaker for the seminar. No one has more experience with South Korean peace initiatives. No other South Korean has met the North Korean leaders more often. He served under Presidents Kim Dae-jung (1998–2003) and Roh Moo-hyun (2003–08), is the author of a book on the Sunshine Policy (Yonsei University Press 2012), and now serves as Special Advisor for Foreign Affairs and National Security to President Moon Jae-in.
After the keynote address, a panel moderated by Research Professor Stein Tønnesson (PRIO) will engage Professor Chung-in MOON in debate.
The panel will include: Sun Heidi Sæbø who is journalist at Dagbladet and author of two books on North Korea and a recent one on China; Professor Chaesung CHUN (Seoul National University) who is an expert on foreign policy and security relations in East Asia; and Sverre Lodgaard (NUPI) who has published extensively on international security, arms control and disarmament issues.
This seminar is organized jointly by the Embassy of the Republic of Korea in Norway and the Peace Research Institute Oslo (PRIO) on the occasion of celebrating 60 years of diplomatic ties between Norway and South Korea.
The seminar will be conducted in English and is open for all.
Programme
13:30-14:00
Refreshments
14:00-14:15
Welcome and opening remarks

Tine Mørch Smith, Director General for Regional Affairs,Norwegian Ministry of Foreign Affairs

Henrik Urdal, Director of PRIO
Young-sook NAM, Ambassador of the Republic of Korea to Norway


14:15-14:45
Keynote speech
Prof. Chung-in MOON, Special Advisor to the ROK President for Foreign Affairs and National Security and Distinguished Professor of Yonsei University
14:45-16:00
Panel discussion and Q&A
Moderator (Stein Tønnesson, PRIO)


Chung-in MOON

Sun-Heidi Sæbø, Dagbladet

Chaesung CHUN, Seoul National University

Sverre Lodgaard, NUPI


Approximately 16.00
> End
embassy korea.jpg
        ![embassy korea.jpg](https://cdn.prio.org/cdn_image/embassy%20korea.jpg?x=240&y=360&m=Scale)

norway korea.jpg
        ![norway korea.jpg](https://cdn.prio.org/cdn_image/norway%20korea.jpg?x=240&y=360&m=Scale)