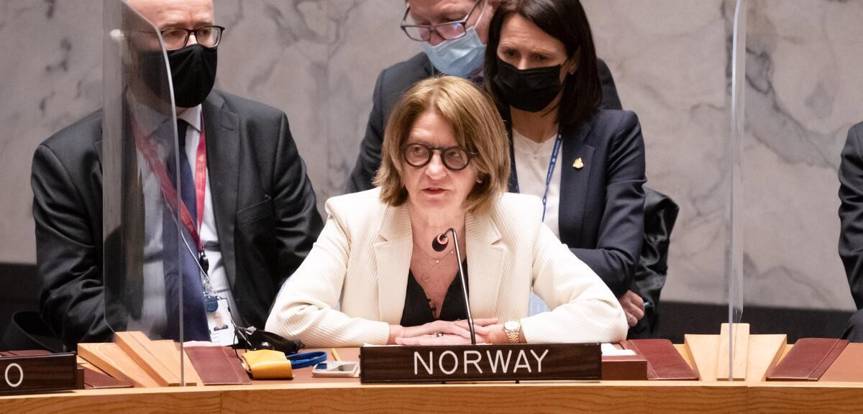 PRIO Event at Arendalsuka 2022
At the time of the Russian invasion of Ukraine on 24 February, Norway's Permanent Representative to the Security Council was sitting next to the Russian representative at the horseshoe table in New York. In the following hours and weeks, Norway was to be an integral part of the intense diplomatic activity that commenced at the United Nations.
A few months into the crisis, we can see that while the invasion further deteriorated an already tense situation in this highest international decision-making body, it also resulted in unprecedented political pressure on a permanent state of the Council, and unusually strong cooperation between states in the Council and states in the General Assembly. Notably, it opened for a decision where a veto by the Permanent Five (P5) now has to be explained to all other members of the UN. In all, however, the legitimacy crisis for the Council has grown further as the invasion has continued.
Still, the role of the UN Security Council in these turbulent times is more complex than first meets the eye. While unable to get around the Russian veto on Ukraine, the Council has remained a platform where Ukraine and Russia meet regularly and the condemnation for breeches of international laws and norms has been maintained by other states. On many other critically important items on the Council's agenda, such as Afghanistan, where Norway plays a key role, the Council has been able to unite and continue its work. Finally, but importantly, the Council remains an arena where internationally dominant states are forced to uphold at least a minimum of diplomatic relations at a time where threats of use of nuclear weapons has made a re-entry into the political narratives.
What roles can states like Norway play in the Security Council at a time of such serious turbulence in the international system? And what can Norway seek to accomplish in its final four months of membership?
As part of Arendalsuka 2022, the Peace Research Institute Oslo (PRIO) invites you to a panel discussion on lessons learned and the way forward for elected states in the United Nations Security Council.
The discussion draws on practical lessons and research; a collaboration reinforced through the work of the Dialogue Forum, a joint initiative of the Norwegian Ministry of Foreign Affairs, PRIO and the Norwegian Institute of International Affairs (NUPI). With the aim to strategically strengthen the goal of a knowledge-based foreign policy in relation to the Norwegian membership in the UN Security Council, the Dialogue forum brings together experts on central themes and issues related to the Security Council agenda and the Norwegian membership.
Participants
Andreas Løvold, Director for the Section for Coordination of UN Security Council Affairs, Norwegian Ministry of Foreign Affairs
Richard Wood, British Ambassador to Norway
Jamal al-Mussawi, Political Economic Councelor, US Embassy
Louise Olsson, PRIO Research Director
Pavel Baev, PRIO Research Professor
Henrik Urdal, PRIO Director (moderator)