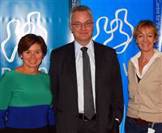 Research Endowment Board member and Executive Committee member, Cynthia Schneider, visited PRIO in Oslo, Norway, on 7 December 2011. Photographed with PRIO Director Kristian Berg Harpviken and PRIOs Special Advisor Ingeborg K. Haavardsson, coordinator for the Peace Research Endowment. Prof. Schneider held two seminars while in Oslo;
Internal seminar on Preventing Conflict and Building Peace through Arts, Culture and the Media: The case of Afghanistan.
Arts, Culture, and Social Change Within the Arab Spring' at Kunstnerne Hus.