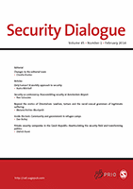 Security Dialogue invites proposals for review articles that aim to inspire academic debate on specific themes, issues or topics through a solid summary, evaluation and discussion of diverse sources that speak to each other and to the author's own work. As such, review articles function as 'conversation pieces': the selected theme and sources provoke discussion or should be introduced in a dialogue about security research because of their striking or unusual quality.
Articles should be 4000-6000 words long and include a substantive mapping of the field/sub-field in which the sources are situated. Review articles should engage with at least two or three academic books, and can include other relevant material, such as art works, exhibitions, official documents (e.g. regulations, case-law, white papers), or fiction (e.g. movies, series, novels). New editions of already published works and interviews with authors are also welcome.
Review articles are expected to develop a critical argument in order to foster debates about specific areas, authors or agendas and serve as a reference for other researchers. Review articles are double-blind peer reviewed. Before submission, authors are encouraged to consult the Security Dialogue Notes for Authors.
Proposals for review articles should be initially discussed with the reviews editors, Rocco Bellanova (rocco@prio.no) and Mareile Kaufmann (markau@prio.no).