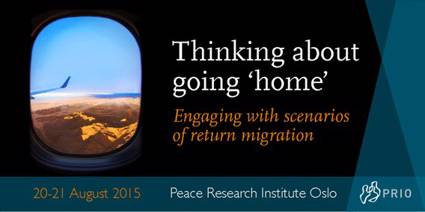 Thinking about Going 'Home':
Engaging with Scenarios of Return Migration
Peace Research Institute Oslo (PRIO) 20–21 August 2015
The possibility of one day returning to one's country of origin is a fact of life for international migrants. Some live in fear of deportation; others have a dream about retiring in their native country.
This conference addresses the different ways in which migrants think, feel, and act upon the possibility of returning or being returned.
We wish to cover a range of circumstances with different degrees of choice and coercion, recognizing that migrants' agency always plays a role. Possible topics for papers include, but are not limited to, the following:
The decision to return compared to the decision to migrate in the first place
Migrants' ways of dealing with the uncertainties of a possible return
The scope for migrants' agency in the face of possible deportation
The relationship between a possible future return and migrants' integration
The effects of return intentions and expectations on transnational relationships
The relationships between identity, belonging, and intentions to return
Moral norms and values related to return migration, including assisted return
The temporalities of the process of anticipating return
The conference is organized on the occasion of the completion of the project Possibilities and Realities of Return Migration (PREMIG), led by the Peace Research Institute Oslo (PRIO) and funded by the Research Council of Norway. The organizers will cover accommodation and meals during the conference for all speakers. Participants must cover their own transportation costs. There is no participation fee.
Abstracts of 200–250 words should be submitted via an online form by 15 April 2015. (The submission form is also available via the conference web site.
The number of slots for speakers is limited; applicants will be notified of the selection outcome by 1 May 2015.
The PREMIG project is led by Jørgen Carling. Questions about the conference or abstract submission can be directed to Cathrine Talleraas (cathrinetalleraas@prio.org).