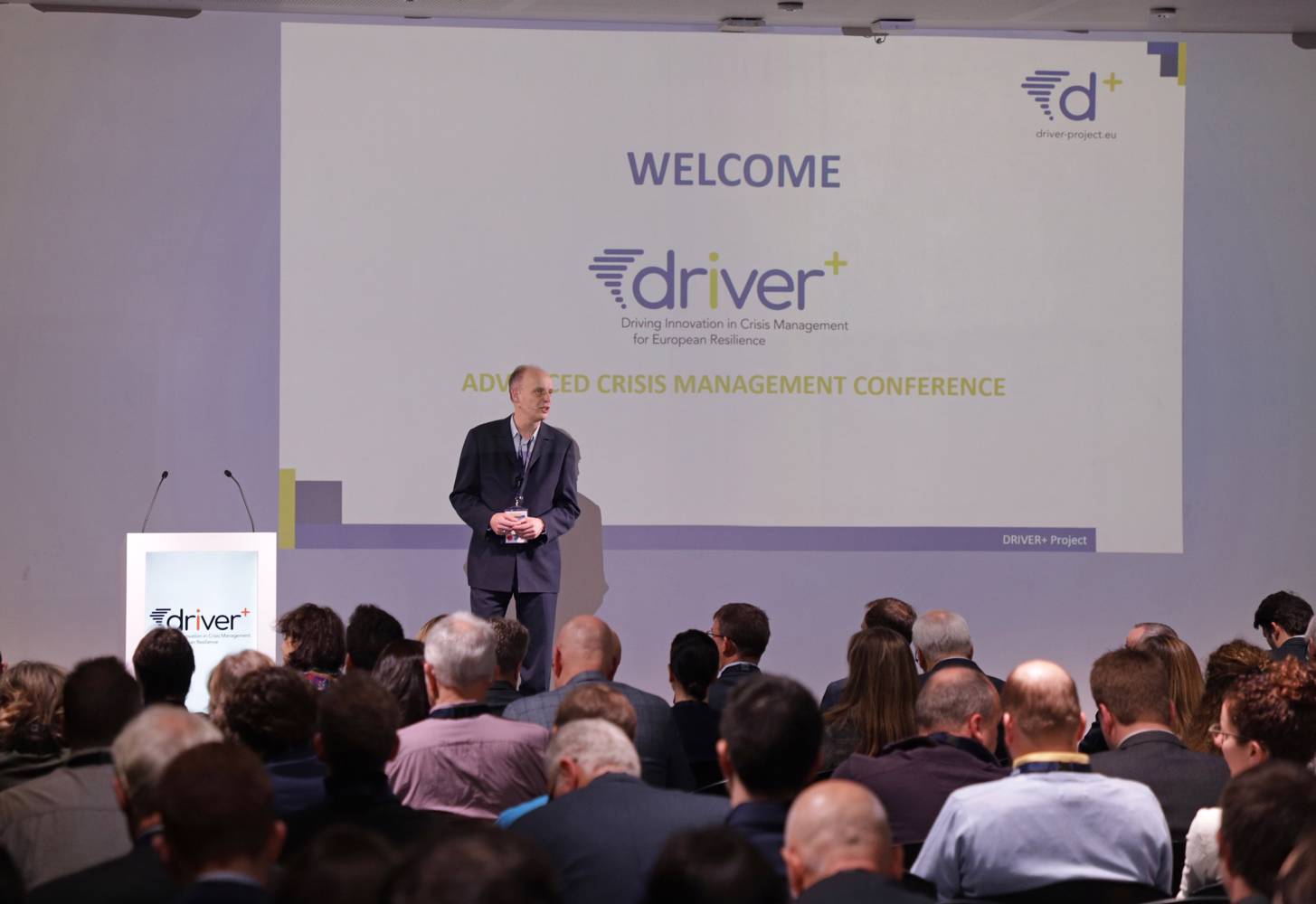 Launched in May 2014, DRIVER+ is an EU-funded project tasked with promoting and testing new, science-based improvements in crisis management to improve the response to climate-change related threats such as wildfires and flooding, as well as other threats such as industrial accidents and terrorism. The DRIVER+ consortium brings together dedicated multi-national practitioners, relief agencies, policy makers, technology suppliers and researchers. Altogether, they represent more than 30 partners in 14 countries. PRIO's role in the project has been to coordinate the work on research ethics and to develop and implement a framework for assessing the potential societal impacts of crisis management solutions. The PRIO team has been led by Stine Bergersen in collaboration with Bruno Oliveira Martins.
The project formally ends in April 2020, and the DRIVER+ Advanced Crisis Management Conference (Final Conference) was organized in Brussels 18th - 20th February 2020.
The conference brought together over 300 Crisis Management specialists, academics and technology developers from throughout Europe and beyond. The event was the culmination of several years of work involving trials, demonstrations, technology assessments and research to help improve crisis management throughout Europe, in particular in connection with climate change related events such as wildfires and flooding.
The conference provided a unique overview of how crisis management organisations can use the project's outputs to select and evaluate solutions addressing identified crisis management gaps on a thorough, methodological basis. It constituted an invaluable opportunity to access cutting-edge research, trial feedback and technological solutions, with assessment insights from leading researchers and practitioners. The project's outputs, achievements and long-term legacy benefits for all European and international Crisis Management organisations were praised by senior European Commission officials and conference delegates.
In a series of keynotes, plenaries and specialist demonstrations, participants were able to learn about and experience actively the work and lessons learned of the DRIVER+ project teams:
The development of a scientifically based trial methodology, the DRIVER+ Trial Guidance Methodology (TGM) for conducting trials of Crisis Management solutions and the Test­bed Technical Infrastructure (TTI) that underpins it.

Reports on the large-scale Trials based on the TGM and TTI conducted in Poland, France, The Netherlands and Austria set up to assess technological and other crisis management solutions in realistic scenarios.

The establishment of an open, cooperative information-sharing network, the Crisis Management Innovation Network Europe (CMINE). PRIO leads a group on CMINE dedicated to Societal Impact.

The establishment of a network of DRIVER+ Centres of Expertise to ensure the sustainability of project outputs. During the conference, seven new centres signed letters of agreement at the conference – Entente Valabre (France), the Main School of Fire Service (SGSP, Poland), L3CE (Lithuania), The Resilience Advisors Network (RAN, Ireland), SRC-PAS (Poland), EASS (Estonian Academy of Security Sciences), and the Austrian Red Cross (ARC).

The DRIVER+ Portfolio of Solutions – an online database of crisis management technologies.
In conjunction with the conference, PRIO-researcher and project leader Stine Bergersen participated in an VIP event for EU and national policy representatives and CM innovation managers, where she presented the Societal Impact Assessment Framework developed by PRIO, as a candidate for standardization. This was also an occasion to receive first-hand recommendations from DG ECHO and DG HOME with regards to the sustainability of the project results.
A report summarizing the main achievements of the project can be found here, and the official project video is available here.
driver.png
        ![driver.png](https://cdn.prio.org/cdn_image/driver.png?x=360&y=270&m=Scale)