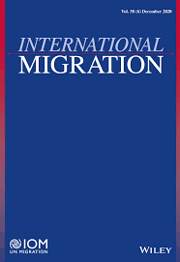 As refugees and other migrants arrived in increased numbers to Europe during the summer of 2015, many citizens across Europe mobilized to provide basic assistance in different ways along the route: from food, shelter, clothes, to access to wifi and charging stations for mobile phones. Alongside the massive political and media attention to the migrants arriving, was also this phenomenon: the widespread mobilization of volunteers, many whom had never or rarely been involved in volunteer initiatives earlier. As the number of people wanting to help grew rapidly, the initiatives needed to organize and create structures to coordinate the volunteers. How did this transition from spontaneous volunteer initiatives, at a moment with high media and political attention, materialize into formalized structures, responding to needs and contexts that also changed over time?
In the article 'Making it "Easy to Help": The Evolution of Norwegian Volunteer Initiatives for Refugees', recently published in International Migration, Maria Gabrielsen Jumbert has followed two of the main Norwegian volunteer organizations created in 2015: the first, Refugees Welcome Norway, organizing to help refugees arriving in Norway, and the second, A Drop in the Ocean, operating mainly in Greece. She shows how both have strived to maintain a "low threshold" for volunteers wanting to help out, by continuously making it "easy to help".
The research conducted for this article is part of the HumBORDER project ("Humanitarianism, Borders and the Governance of Mobility: the EU and the 'Refugee Crisis'), funded by the Norwegian Research Council. The article is part of a forthcoming special issue, on "Politics, humanitarianism and migration to Europe", co-edited by Susanne Jaspars and Thea Hilhorst.
Abstract
At the height of the refugee reception crisis in 2015, a large number of volunteers across Norway mobilized to bring assistance in different forms. The two most notable initiatives were Refugees Welcome Norway (RWN) and A Drop in the Ocean (Dråpen i Havet, DiH). RWN focused on those arriving in Norway and DiH on those arriving in Greece. Looking at these two initiatives' organizational trajectories together allows us to examine how they managed the transition from the immediate 'crisis' and large volunteer mobilization to finding a role for themselves in the longer‐term. Drawing on social movement theory and literature on humanitarian action, the article argues that the two organizations, while adapting in different ways, focused their organizations around 'making it easy' for volunteers to help. The article explores how this allowed to forge their distinct identity in the organizational landscape, while also engaging with volunteers' 'need to do something'.
Article available Open Access here: https://onlinelibrary.wiley.com/doi/full/10.1111/imig.12805