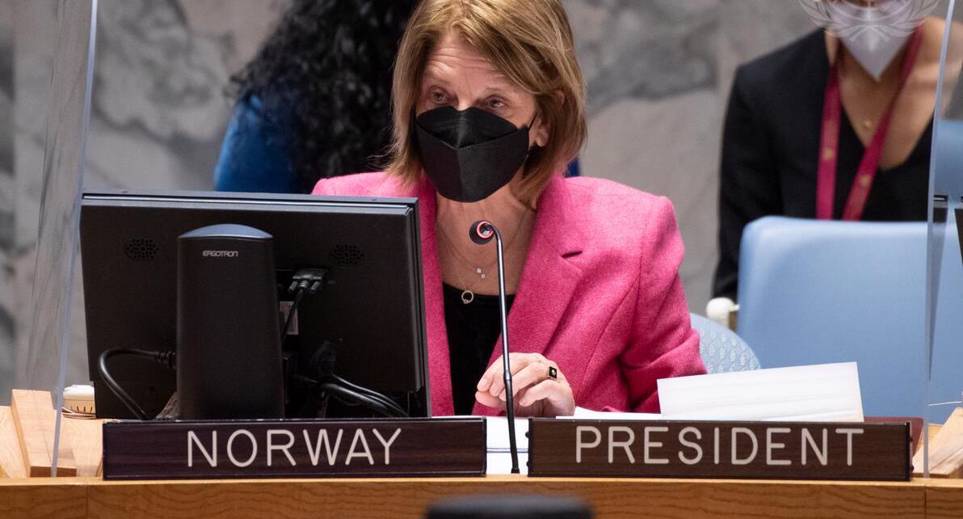 On February 4th, the PRIO GPS Centre hosted a webinar on Norway's work on the Women, Peace and Security (WPS) Agenda in the UN Security Council.
With January 2022 marking the halfway point in Norway's Security Council membership – as well as the close of Norway's UN Security Council Presidency –, the webinar aimed to assess whether Norway has delivered on its goal to strengthen the WPS agenda. Given the WPS agenda's central role in Norway's Security Council campaign, as well as it being articulated as a core thematic focus of Norway's presidency, examining the successes and failures of Norway's efforts to promote WPS in the Security Council is of high scholarly relevance.
The speakers for this event were Norway's Special Representative for Women, Peace and Security André Mundal, Senior Researcher and Research Director Louise Olsson (PRIO), Director of the Centre for Women, Peace and Security (LSE) and ICAN Founder Sanam Naraghi Anderlini, and Senior Research Fellow Niels Nagelhus Schia (Norwegian Institute of International Affairs). The debate was introduced and moderated by Torunn L. Tryggestad, Deputy Director at PRIO and Director of the PRIO Centre on Gender, Peace and Security.
The event began with opening remarks from Torunn L Tryggestad, followed by an overview of Norway's work on WPS from Special Representative for Women, Peace and Security André Mundal. Importantly, Norway has been a champion for WPS since the 1990s, even before UN Security Council Resolution 1325 was passed. The country has now picked up the baton from Sweden, which likewise had made WPS a top priority for its Security Council membership. Mundal explained that for the MFA, this past year has been a good exercise in prioritization, noting that it has been a particularly challenging year given that an exceedingly demanding geopolitical situation has defined Council discussions. Because of this, much of the work on WPS has been mainly behind the scenes, and the MFA has focused on strengthening and implementing existing resolutions and mandates. Mundal went on to discuss Norway's signature events during the Security Council presidency, as well as the situation in Afghanistan as a "test case" for how serious the international community is about women's participation in society.
In response to the webinar's central premise of assessing Norway's work on this topic, Louise Olsson, Sanam Naraghi Anderlini, and Niels Nagelhus Schia all provided a unique outlook on WPS and diplomacy in the Security Council. From what it means to be a small state in the Security Council, to how countries can modify the Council's working methods and effectively integrate new topics, to how Norway can work more effectively with civil society, the webinar speakers highlighted a range of topics that all play into Norway's work on WPS in the Security Council in different ways. The importance of coalition-building and behind-the-scenes diplomacy, as well as of inviting women to brief on non WPS-related topics, were highlighted as central issues. The webinar closed with a discussion of the road ahead, focusing on what Norway can do to adapt its strategy and work even more closely with WPS in the months ahead.
Watch the recording of the event here.
This event will be followed by a GPS Policy Brief, due to be published in late February, early March.