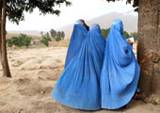 The war on the Taliban and Al Quaeda is not won primarily by military means, but rather by bringing about tangible change in the everyday lives of common Afghans. This film seminar takes stock of Afghan reconstruction, and looks at how future efforts could be more effective. Film screening of extracts from Dominique Morissette's film Between Hope and Fear, followed by a debate including film director Morissette and Kristian Berg Harpviken of PRIO. More information at this website.
The seminar will end at 11:30, when we wish participants welcome to lunch. The seminar is free.
If you want to take part in this seminar, please register with: seminar@prio.no
Please note that this morning seminar is followed by an afternoon seminar at Vika Cinema. See separate announcement.
The seminar is a cooperation between PRIO, Oslo Documentary Cinema and the Embassy of Canada.