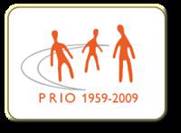 Former, current, and upcoming PRIO directors present their thoughts and ideas on peace in their region of interest.


Panel:
Hilde Henriksen Waage: No Peace in the Middle East
Sverre Lodgaard: Peace with Iran and North Korea?
Stein Tønnesson: The East Asian Peace
Kristian Berg Harpviken: Peace in Afghanistan and Pakistan?

This seminar will be chaired by Inger Skjelsbæk.

Please register fifty@prio.no  if you want to take part in this seminar.

Please remember to indicate which seminar you wish to attend.