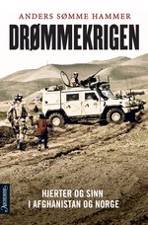 The Norwegian journalist Anders Sømme Hammeris launching his new book 'Drømmekrigen: Hjerter og sinn i Afghanistan og Norge' [The Dream War: Hearts and Minds in Afghanistan and Norway'].
PRIO and Ascheoug Publishing House invite you to a seminar to debate some of the topics of the book.
The seminar and panel debate will be chaired by Kristian Berg Harpviken.
PANEL:
Anders Sømme Hammer (the author)
Rune Ottosen, Oslo University College
Fredrik Græsvik, TV2
Ola Bøe-Hansen, the Norwegian Armed Forces
Rolf A. Vestvik, Norwegian Refugee Council
NB! This seminar will be conducted in the Norwegian language.