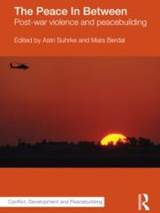 Postwar peace is never easy and only rarely fully consolidated. How can we best understand why violence continues, and sometimes even increases, after the big guns have been silenced and a peace agreement signed? Explanations are commonly sought in the nature of the post-war situation, assumed to have features that encourage violence such as a weak state, criminal elements generated by the war-time economy, demobilized but not demilitarized or reintegrated ex-soldiers, impunity, and rapid liberalization. But assuming that there is one, dominant kind of post-war situation will seriously undermine peacebuilding efforts. Instead, peacebuilders need to disaggregate. At least four distinct categories can be readily identified – peace imposed by victors, challenged by losers, accepted by parties, and divided among factions.
Astri Suhrke (CMI) and Mats Berdal (King's College) discuss these 'peaces' and the implications for post-war reconstruction and stability in their new, edited book: The Peace In Between. Post-War Violence and Peacebuilding (London: Routledge 2011). Kristian Berg Harpviken (PRIO) will talk about his contribution to the anthology, on three distinctly different warlord biographies from Afghanistan.
Chair: Kristian Berg Harpviken
All are welcome to stay behind for refreshments and snacks after the program ends at 16:00.