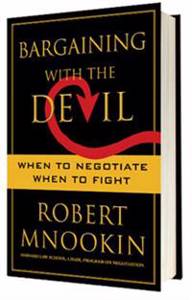 The Chair of Harvard's Program on Negotiation offers advice for the most challenging conflicts — when you face an adversary you don't trust, who may harm you, or who you may even feel is evil. Drawing on a wide range of disputes involving demonization (from international affairs, in politics, in business and even in family life) Mnookin will identify the emotional, strategic and cognitive traps to avoid, and offers a framework for wise decision-making.
The seminar will be chaired by PRIO Director Kristian Berg Harpviken. Scott Gates, CSCW Director will act as commentator.
---
Robert Mnookin is Samuel Williston Professor of Law, Havard Law School; Director, Harvard Negotiation Research Project; and Chair of the Steering Committee, Program on Negotiation.
A leading expert in the field of conflict resolution, Professor Robert H. Mnookin has applied his interdisciplinary approach to negotiation and conflict resolution to a remarkable range of problems; both public and private. An experienced mediator, Prof. Robert Mnookin has successfully mediated many complex commercial disputes which involved advanced technologies and intellectual property. He has written or edited nine books and numerous scholarly articles. A renowned teacher and lecturer, Prof. Robert Mnookin has taught numerous workshops for corporations, governmental agencies and law firms throughout the world and trained many executives and professionals in negotiation and mediation skills. (http://www.mnookin.com/)