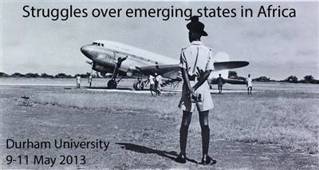 PRIO is organising in collaboration with the Department of History and the Global Security Institute of the University of Durham a three day conference on the topic: "Struggles over emerging states in Africa: The impact of political governance violence on governance and society in Nort-East Africa, 1950-1980". The conference is part of the four-year PRIO research project on 'The Dynamics of State Failure and Violence' implemented in partnership with the African Studies Centre, University of Oxford, and funded by the Research Council of Norway.
This conference will explore how, and to what degree, political violence shaped emerging independent states in northeast Africa in the 'formative' period between the 1950s and 1980. It will focus on case studies of political violence including:
Kenya's Mau Mau rebellion of the 1950s,
the Congo crises and rebellions of the 1960s,
the Anya-Nya of South Sudan,
Amin's destruction of Uganda in the 1970s,
Siad Barre's revolution and the Ogaden War,
emerging rebellions in Ethiopia/Eritrea and the Red Terror of the Derg regime,
Gaddafi's coup in Libya,
and a number of less studied cases such as violence in Rwanda in the 1970s, local rebellions in Rwenzururu and banditry in northern Kenya fuelled by Somali irredentism and election violence in the 1960s.
A master class for invited post-graduate students researching topics relevant to the conference theme will also be held on the day before the main conference.For further details, please visit: http://www.dur.ac.uk/history/events/soesia/
---