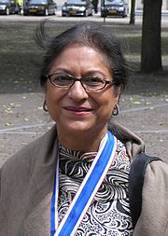 South Asia is a troubled region, with a number of serious conflicts unresolved, some taking the form of warfare. The India-Pakistani conflict encompasses two nuclear armed states with a long shared border, fed by vivid narratives of the post-independence exodus. Within, India seeks to contain the Naxalites and other resistance movements, Pakistan faces a number of militant groups, Sri Lanka struggles with the aftermath of the onslaught on the Tamil Tigers, and Nepal's remarkable peace process remains fragile. What are the steps that South Asian states, their leaders and the population at large, should take to move towards stability and peace?
PRIO, the Norwegian 14 August Committee and the Stefanus Alliance have the pleasure of hosting an encounter with laywer, judge, activist and global citizen Asma Jahangir.
Democracy is proved to be closely associated with peace both between and within states. Yet, democracy alone is no panacea for peace. The transition from autocracy to democracy is fraught with risk. Elections may be essential for democracy, but they alone are far from enough. Jahangir has been critical of the electoral craze, and has pointed to the ways in which the transition is challenging, because it often comes without a simultaneous cultivation of the rule of law, and relatedly, a willingness to counter a culture of impunity.
A former UN Special Rapporteur on Freedom of Religion of Belief, Asma Jahangir has cast a light on situations where religious and social values are manipulated to undermine the move towards equal rights for all. "Often" – states Jahangir – "rule of law is undermined in societies where religious and social values are raised on a pedestal. In South Asia, where tradition and religion is often heavily politicized, these are issues of extraordinary importance. If rule of law is critical to the sound evolution of democracy, is it also the case that rule of law ought to be liberated from the values of a particular people or context, or is a certain level of adjustment, so that universal principles resonate with local worldviews, is critical to success?
These are the key questions that Asma Jahangir will engage with in this seminar. She will do so with reference to the situation in the South Asian region, but the dilemmas she engages with are universal.
The Seminar will be chaired by Kristian Berg Harpviken, Director of PRIO
Asma Jahangir is a Pakistani human rights lawyer who served two terms as chair of the Human Rights Commission of Pakistan and was the first woman president of the Supreme Court Bar Association of Pakistan. Ms. Jahangir served as UN Special Rapporteur on Extrajudicial, Arbitrary or Summary Executions (1998-2004) and UN Special Rapporteur on Freedom of Religion or Belief for the UN Human Rights Council (2004-2010). In late June this year, Jahangir was appointed advisor to the team set up to conduct a comprehensive investigation of alleged human rights violations in Sri Lanka that was mandated by the UN Human Rights Council.
This seminar is organized by PRIO, jointly with the Norwegian 14 August Committee and the Stefanus Alliance. Asma Jahangir is in Oslo to receive the Stefanus Prize 2 September.