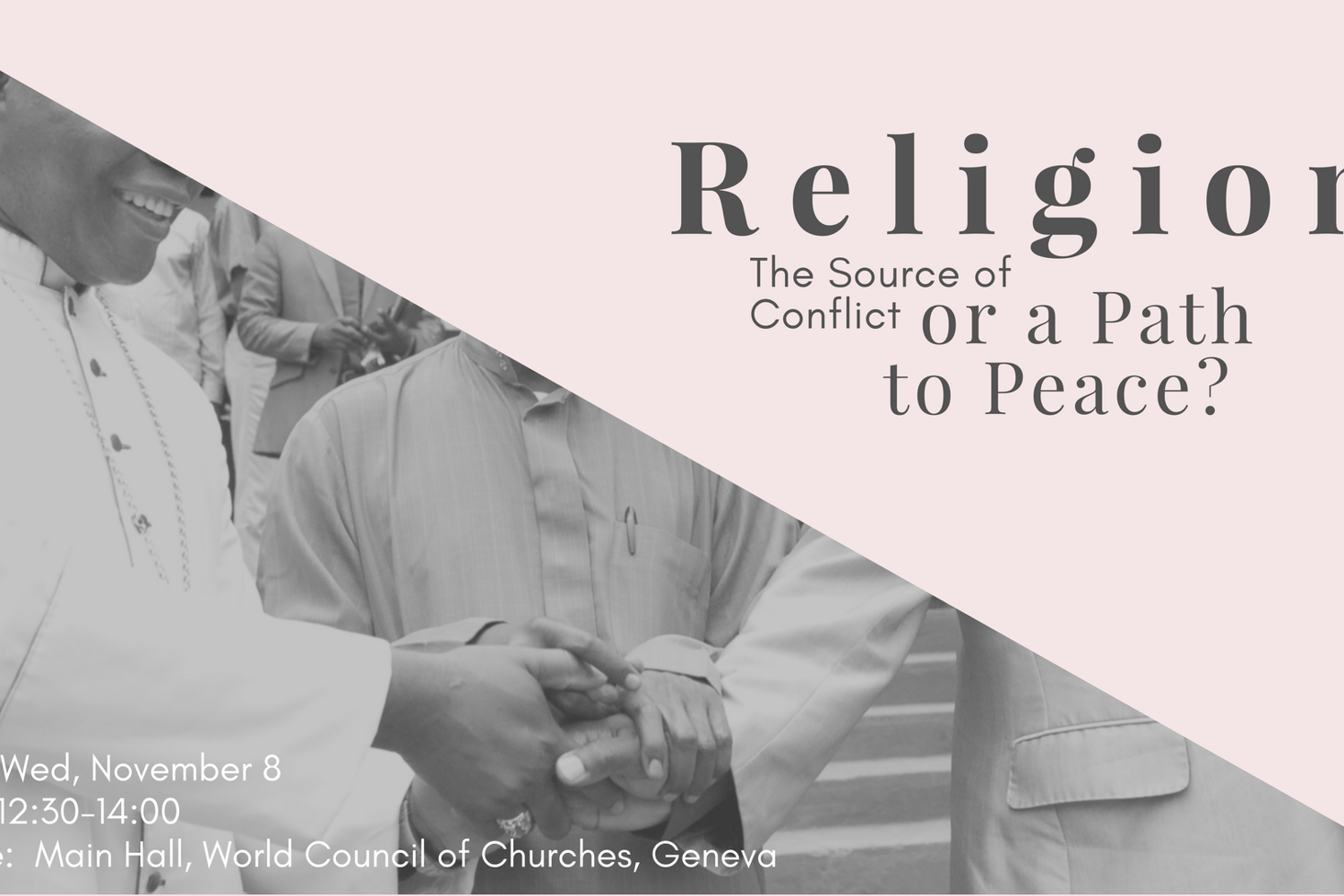 The Cordoba Foundation of Geneva, in partnership with the Network for Religious and Traditional Peacemakers, the Peace Research Institute Oslo, Inclusive Peace & Transition Initiative, and the World Council of Churches, is pleased to contribute to the Geneva Peace Week on the theme of prevention.
Religion – A Source of Conflict-.png
Studies on conflict data show a sharp increase in conflicts with which involve religious incompatibilities. According to studies conducted by the Uppsala Conflict Data Program (UCDP), in 1975 only 2 percent of conflicts involved a religious incompatibility. In 2013 the percentage had grown to more than 50 percent. There are no exhaustive explanations to this change, yet the phenomenon can be approached by looking at the prevention work undertaken throughout the last 30 years. While conflicts without religious incompatibility have been addressed through active preventative methods and tools, the lack of understanding and suitable preventive measures concerning the challenges that conflicts with religious incompatibilities face, need to be acknowledged.
Meanwhile, religious organisations are considered as a rich source for peace promotion. Whether as legitimate local or international peace actors and mediators or as providers of humanitarian aid, religious institutions have a role to play in conflict resolution.
Considering the need for promoting experience sharing and developing a common understanding on the possible role religious actors could have in preventing violence, the Cordoba Foundation of Geneva together with its partners is pleased to invite you to a discussion panel addressing questions such as:
why has religion been raised to the forefront of conflict – are we seeing a new development or an old, but reframed trend;
the role of religious actors/organisations in preventing hate speech and violence;
good practices and successful prevention measures developed by religious actors and communities;
religion and inclusivity – when religion and religious actors are included, what risks exclusion and how to fill these gaps;
the support needed to strengthen the work of religious actors in preventing violence;
the risks and opportunities of including religious dimensions in conflict transformation practice.
The audience is warmly invited to join the discussion.
Panelists
Dr. Mohamed Elsanousi, Director of the Network for Religious and Traditional Peacemakers, Washington, D.C. Office
Peter Prove, Director, International Affair, The World Council of Churches
Rev. Dr & Canon Trond Bakkevig, Dean of Vestre Aker, Church of Norway, Peace Research Institute Oslo
Facilitator
Dr. Thania Paffenholz, Director of the Inclusive Peace & Transition Initiative
Please follow this link for more information about the event, and more about the Geneva Peace Week.