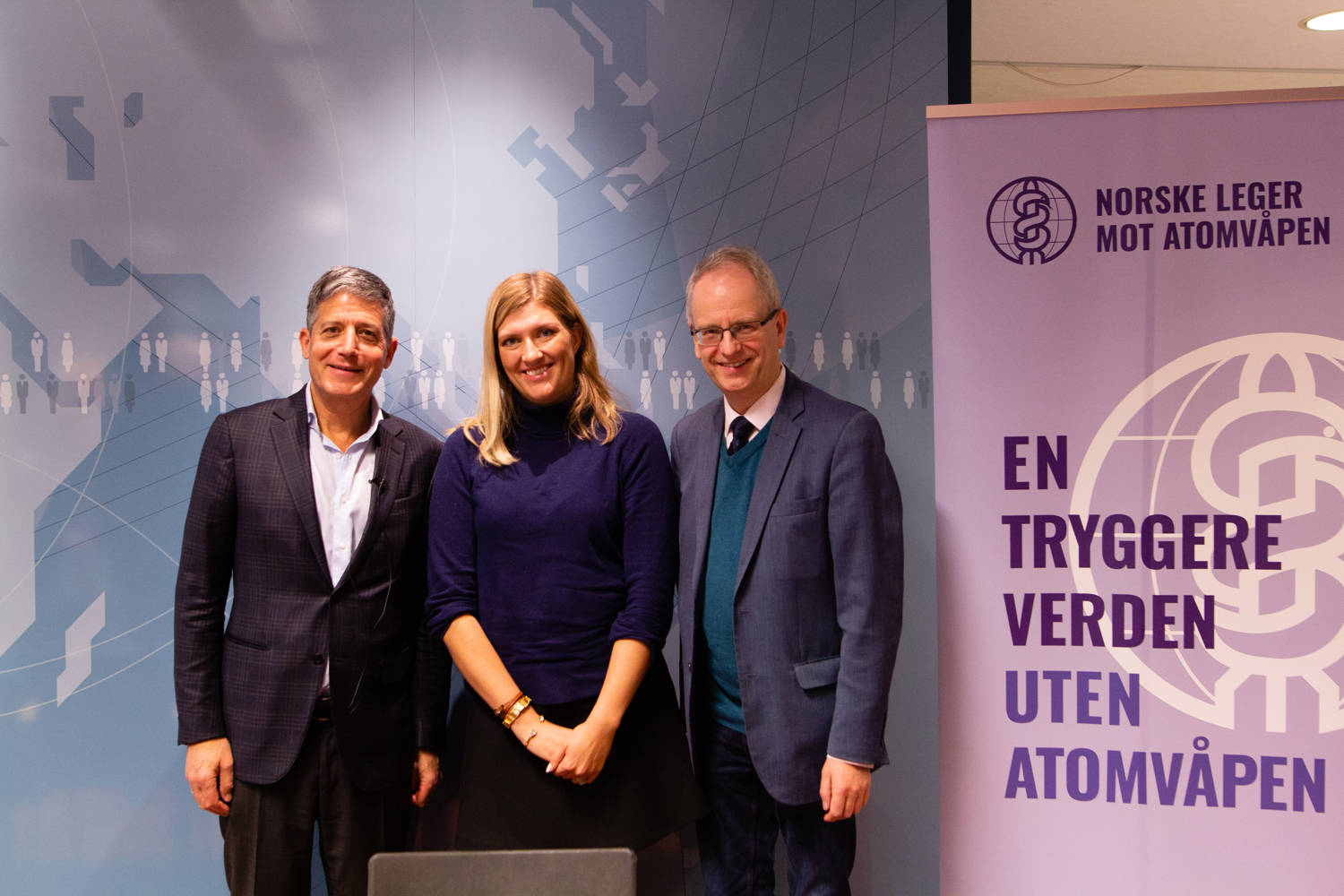 Join us for a seminar with Beatrice Fihn (Executive Director of ICAN), who received the Nobel Peace Prize on behalf of ICAN in 2017. This seminar is a co-hosted event with ICAN.
The UN Treaty on the Prohibition of Nuclear Weapons was adopted by 122 states in July 2017. Norway has not yet signed the treaty.
What are the implications for Norway of joining the ban treaty, and what will be the consequences of staying outside the treaty? How does the nuclear weapons ban treaty influence Norway's finance sector, military strategy, perceived role as a "peace champion" and role in the international society?
Beatrice Fihn will give a short introductory speech. We will then hear from a panel of experts, led in discussion by Henrik Syse, Research Professor at PRIO.
Beatrice Fihn
is a Swedish lawyer and the executive director of the International Campaign to Abolish Nuclear Weapons (ICAN). ICAN was awarded the 2017 Nobel Peace Prize for "its work to draw attention to the catastrophic humanitarian consequences of any use of nuclear weapons and for its groundbreaking efforts to achieve a treaty-based prohibition of such weapons."
Tormod Heier
is a Norwegian officer from Forsvarets Stabsskole. He has previously worked in the Ministry of Defense. In 2017 he was awarded the Ossietzky Prize for his contribution to a public critical debate on Norwegian defense and foreign policy.
Sunniva Bratt Slette
is a sustainability analyst at Storebrand Asset Management's sustainable investments team. The team is one of only a few asset managers in the Nordic Countries to have a division of sustainability analysts who continuously monitor and assess the companies they invest in.
Gregory M. Reichberg
is a Research Professor at the Peace Research Institute Oslo (PRIO) and Adjunct Professor in the Department of Political Science at the University of Oslo. He heads the Oslo-based Research School on Peace and Conflict and is an associate editor of the Journal of Military Ethics.
Kjølv Egeland
is a Researcher at NAIL - Norwegian Academy of International Law. Egeland holds a DPhil in International Relations from Oxford University. He has previously worked for the International Law and Policy Institute (ILPI).
Henrik Syse
is a Research Professor at PRIO, and Editor of the Journal of Military Ethics. He is also a lecturer at Bjørknes College, contributing to the Master's degree program jointly undertaken by PRIO, Bjørknes, and the Australian National University.
A light breakfast will be available starting at 8.15.