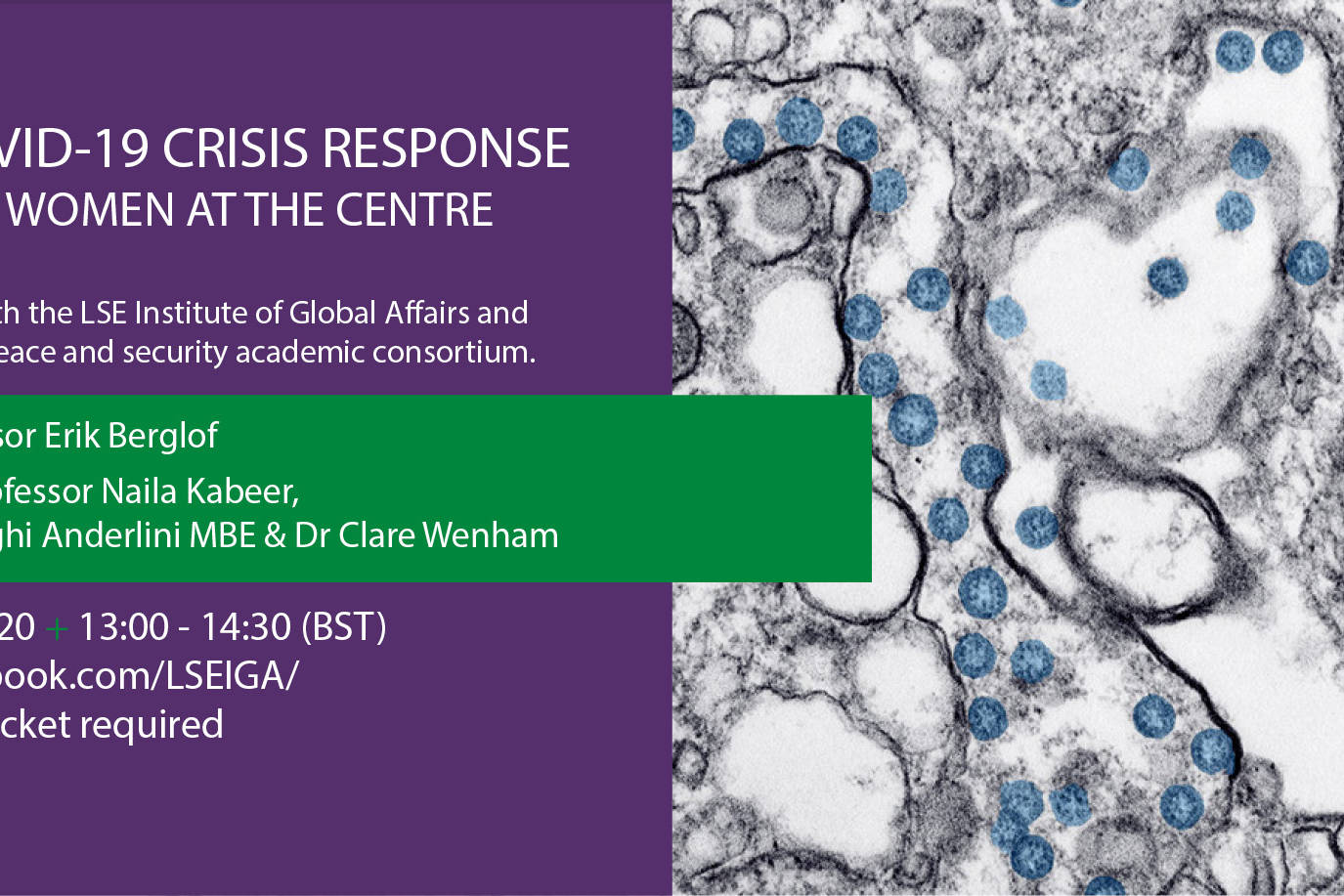 This is a crisis like no other that the global community has had to face. Perhaps more than previous epidemics, COVID-19 has demonstrated that whilst outbreaks can affect anyone, women are often differentially affected – within the home, within the economy and within policy space. Yet most governments have failed to take this into consideration in decision-making, despite the knowledge gained from Ebola, Zika, and Pandemic Influenza.
We also know that in conflict and fragile contexts where governments are absent, unwilling or overwhelmed, women peace-builders have been the first responders to the crisis. Would policy responses look different if women were in positions of leadership? This seminar considers the role of women in leadership and the impact of COVID-19 on women.
About the speakers:
Professor Naila Kabeer (@N_Kabeer) is Professor of Gender and Development at the Department of Gender Studies and Department of International Development. Naila's research interests include gender, poverty, social exclusion, labour markets and livelihoods, social protection and citizenship and much of her research is focused on South and South East Asia.
Sanam Naraghi Anderlini MBE (@sanambna) joined LSE as Director of the Centre for Women, Peace and Security in December 2019. Sanam is a globally recognised advocate in the field of women, peace and security, with 24 years' experience as a peace strategist working on conflicts, crises and violent extremism with a mix of civil society, governments and the UN. Sanam is the founder and CEO of the International Civil Society Action Network (ICAN) where she spearheads the Women's Alliance for Security Leadership (WASL) comprising independent women-led organisations active in 40 countries, preventing violence and promoting peace, rights and pluralism.
Dr Clare Wenham (@clarewenham) is Assistant Professor of Global Health Policy. She is the Director of the MSc in Global Health Policy and sits on the steering committee of the LSE Global Health Initiative. Clare's work mostly falls in the cross-over between global health and international relations focusing on global health security and global health governance. In particular, her recent research has concentrated on Zika, Ebola, and more broadly, on the governance structures of the global health landscape and global disease control.
This event is co-hosted with the LSE Institute of Global Affairs and is part of a series of events from the gender, peace and security academic consortium with the Georgetown Institute for Women, Peace and Security, the PRIO Centre on Gender, Peace and Security, Monash Gender, Peace and Security Centre and the Women, Peace and Security Institute in Kofi Annan International Peacekeeping Training Centre.
More information and link to live webcast here.
GMT+1 (London time) 13:00-14:30 PM
GMT+2 (Oslo time) 14:00-15:30 PM