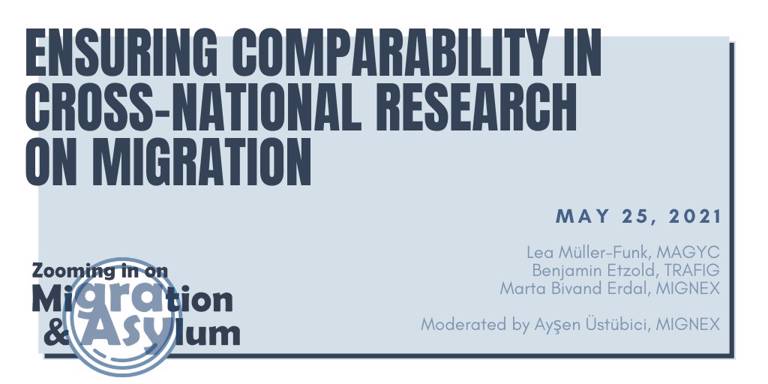 Migration research benefits from comparative analyses across countries, communities or groups. But comparability can be a vexing issue, in both methodological and conceptual terms. Join us for a discussion on 25 May 13.00 - 14.30 CET. In this webinar we draw upon the challenges encountered and lessons learned in cross-national research projects. The event is organised by:
MIGNEX, which carries out mixed-methods data collection in 25 local areas across 10 countries in Africa, the Middle East, and Asia.
TRAFIG, which investigate long-lasting displacement situations at multiple sites in Asia, Africa and Europe and analyse options to improve displaced people's lives.
MAGYC, which is conducting comparative, multi-level analysis of the dynamics of South-South migration flows in key sending regions of migration to the EU.
Moderation:Dr Ayşen Üstübici, Assistant Professor in the Department of International Relations and Department of Sociology at Koç University and researcher on the MIGNEX project.
PanelDr Lea Müller-Funk, Research Fellow at GIGA German Institute of Global and Area Studies and researcher on the MAGYC project.
Dr Benjamin Etzold, Senior Researcher at the peace and conflict studies center BICC and Scientific Coordinator of the TRAFIG project
Dr Marta Bivand Erdal, Research Professor in Migration Studies at the Peace Research Institute Oslo and lead for Work Package 4: Perspectives for the MIGNEX project.
RegistrationYou can register for the webinar here. You will receive a confirmation email upon registration.
The webinar is part of the 'Zooming in on Migration and Asylum' series. All webinars will be livestreamed via YouTube. Follow the TRAFIG YouTube channel for all past recordings and upcoming livestreams.