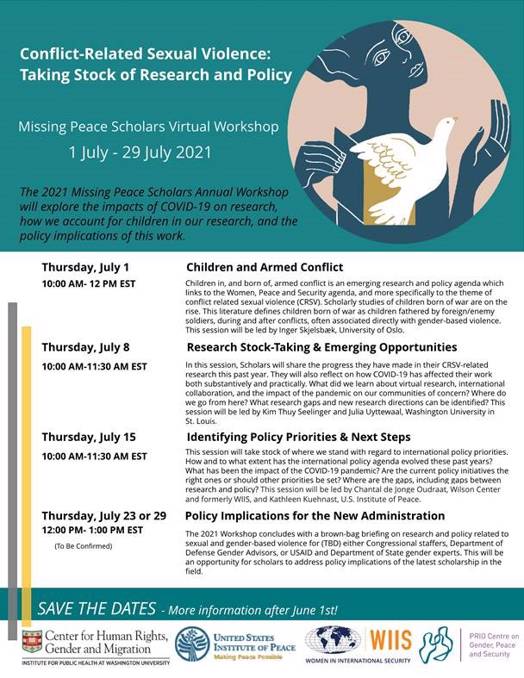 The 2021 Missing Peace Scholars Annual Workshop will explore the impacts of COVID-19 on research, how we account for children in our research, and the policy implications of this work.
Children and Armed Conflict
Thursday, July 1. 10:00 AM- 12 PM EST
Children in, and born of, armed conflict is an emerging research and policy agenda which links to the Women, Peace and Security agenda, and more specifically to the theme of conflict related sexual violence (CRSV). Scholarly studies of children born of war are on the rise. This literature defines children born of war as children fathered by foreign/enemy soldiers, during and after conflicts, often associated directly with gender-based violence. This session will be led by Inger Skjelsbæk, University of Oslo and PRIO.
Research Stock-Taking & Emerging Opportunities
Thursday, July 8. 10:00 AM-11:30 AM EST
In this session, scholars will share the progress they have made in their CRSV-related research this past year. They will also reflect on how COVID-19 has affected their work both substantively and practically. What did we learn about virtual research, international collaboration, and the impact of the pandemic on our communities of concern? Where do we go from here? What research gaps and new research directions can be identified?This session will be led by Kim Thuy Seelinger and Julia Uyttewaal, Washington University in St. Louis.
Identifying Policy Priorities & Next Steps
Thursday, July 15. 10:00 AM-11:30 AM EST
This session will take stock of where we stand with regard to international policy priorities. How and to what extent has the international policy agenda evolved these past years? What has been the impact of the COVID-19 pandemic? Are the current policy initiatives the right ones or should other priorities be set? Where are the gaps, including gaps between research and policy? This session will be led by Chantal de Jonge Oudraat, Wilson Center and formerly WIIS, and Kathleen Kuehnast, U.S. Institute of Peace.
Policy Implications for the New Administration
Thursday, July 23 or 29 (TBC). 12:00 PM- 1:00 PM EST
The 2021 Workshop concludes with a brown-bag briefing on research and policy related to sexual and gender-based violence for (TBD) either Congressional staffers, Department of Defense Gender Advisors, or USAID and Department of State gender experts. This will be an opportunity for scholars to address policy implications of the latest scholarship in the field.
Contact johelv@prio.org if you're a scholar with an interest in these topics and would like to attend the workshop.