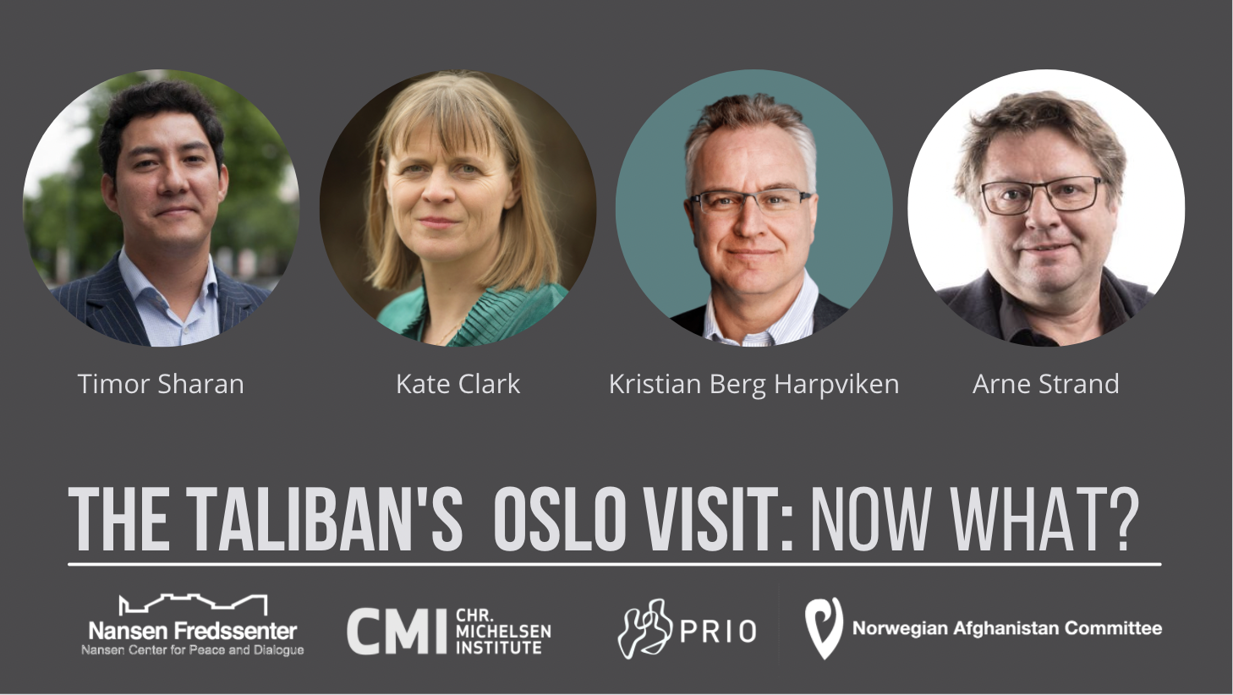 Norway's hosting of the Taliban has been the subject of ridicule as much as praise. What did the Taliban bring back from their meetings with representatives from civil society and key Western states? Will the regime in Kabul be willing and able to change course?
The event will be streamed on Youtube at this link.
Programme
Welcome by moderator Kristian Berg Harpviken, PRIO
Interviews with Taliban officials (pre-recorded by Terje Watterdal, NAC)
Panel discussion
Panel
Timor Sharan, Afghanistan Policy Lab
Kate Clark, Afghan Analysts Network (AAN)
Arne Strand, Chr. Michelsen Institute (CMI)
This event is a collaboration between the Norwegian Afghanistan Committee, PRIO, Chr. Michelsen Institute (CMI) and the Nansen Centre for Peace and Dialogue.
More information
The main justification for the meeting was humanitarian and about saving Afghan lives. Yet, it became clear that the ambition was to discuss issues far beyond the humanitarian domain, including rescuing what remains of the health and education capacities developed over the last twenty years.
Western states are also concerned that a combination of increasing poverty and state repression will lead to massive Afghan migration, and that Afghanistan may again become a harbour for international terror networks.
There is no doubt that the Taliban's worldview stands in sharp contrast to liberal democratic values. Afghanistan now faces severe setbacks for freedom of expression, women's participation, and political inclusion.
Critics of the meeting see attempts at a dialogue with the Taliban as futile and counterproductive, and warn against legitimizing and indirectly supporting their regime.
Those in favour of engagement, argue that the Taliban's rule is a fact, and that the main victims of not engaging with the rulers of Afghanistan will ultimately be the Afghan civilians.
What came out of the meetings in Oslo and what is the next step? How much did the Taliban delegation concede, what concrete steps did they promise to take, and what is their ability to follow through back in Kabul?
It is worth noting that the Taliban knew that they would have to face their critics from Afghan civil society, meet concrete demands from major donor states, and that their wish to meet cabinet members from Norway or elsewhere would be declined.
The Oslo meetings could be the start of a more consistent Western engagement with the Taliban, but much depends on what the Taliban do to accommodate internal and external demands. An equally important question is whether the key Western actors can progress on an uncertain path and stave off domestic criticism.
Biographies
Kristian Berg Harpviken is a Research Professor at the Peace Research Institute Oslo (PRIO). He is a long-time student of Afghanistan and the surrounding region, a frequent media commentator, and lectures regularly to both scholarly and popular audiences. He is author of Social Networks and Migration in Wartime Afghanistan (Palgrave MacMillan, 2009) and (with Shahrbanou Tadjbakhsh) A Rock Between Hard Places: Afghanistan as an Arena of Regional Insecurity (Hurst, 2016).
Arne Strand has a PhD in Post-War Recovery Studies through which he studied coordination of humanitarian assistance in complex emergencies. His research focuses on aid coordination, forced migration and reintegration, peace building and security sector reform and humanitarian and development assistance. Strand has been team leader of several evaluations and research programmes in and on Afghanistan. He has extensive management experience from NGOs and research institutes and has also been involved in developing management and professional capacities of Afghan NGOs and peacebuilding organisations.
Kate Clark has worked at AAN since 2010. She was Country Director (2014-16) and has been a co-director since 2017. Kate's interest in Afghanistan began in 1991 when she went to Peshawar in Pakistan on holiday and spent time with Afghan refugees there. In 1999, she was posted to Kabul as the BBC correspondent – at the time the only western journalist based in the country. She reported on drought and war, but also on football and tourism, travelling widely on both sides of the frontline. Kate was expelled by the Taliban in early 2001, but returned to cover the 2001 war, contributing to award-winning coverage. After 2002, Kate was based in London, but returned to make radio and television documentaries about the insurgency, weapons smuggling, opium, and war crimes. At AAN, Kate focuses on the war, including civilian casualties, the Afghan Local Police and 'campaign forces' and detention and torture. She has also written on Afghanistan's plants, birds, and the environment.
Kate has an MA in Middle Eastern Politics from Exeter University in Britain and previously worked in the BBC Arabic Service. She has also lived, studied, and worked in the Middle East.
Timor Sharan is an Afghan academic scholar with a PhD in political economy of international intervention and statehood in Afghanistan from the University of Exeter. Sharan has published in peer-reviewed international journals, including the Central Asian Survey and Ethnopolitics. Dr. Sharan is the former Deputy Minister at Independent Directorate of Local Governance of the Afghan government and the former Senior Policy Analyst for International Crisis Group.