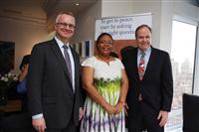 Supporting the Best in Peace Research
The Peace Research Endowment was launched 12 March at the residence of the Norwegian Consul General in New York, Sissel Breie. The Peace Research Endowment is established with a grant by the Peace Research Institute Oslo (PRIO).
The Peace Research Endowment reception honored Nobel Peace Prize Laureate Leymah Gbowee, and the two prize-winning documentary filmmakers who helped to get her message across, Abigail Disney and Gini Reticker.
Their film "Pray the Devil Back to Hell" documented Gboweh's mobilization to end the Liberian civil war. The guests at the launch came away inspired and exhilarated by Leymah Gbowee's remarks at the reception on the resilience and power of women and her challenge to combine knowledge and real time, on-the-ground engagement in the cause of peace.
Gbowee and Disney were interviewed by PRIO Deputy Director Inger Skjelsbæk on the topic of the role of peace negotiation and peace research in areas of conflict, as well as the pivotal role of women play in peace processes. Footage of the interview is available here.
Read more on the Peace Research Endowment here.