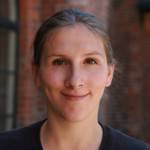 Marta Bivand Erdal has successfully defended her PhD in Human Geography at the Faculty of Social Sciences, University of Oslo. The title of her dissertation is "Transnational ties and belonging: Remittances from Pakistani migrants in Norway".
Her doctoral research was conducted within the project "Remittances from Immigrants in Norway", in which she has worked with Jørgen Carling, Cindy Horst and twelve associate researchers and assistants.
The doctoral examination committee consisted of Dr Michael Collyer (University of Sussex), Dr Katharine Charsley (University of Bristol) and Professor Terje Wessel (University of Oslo) Marta Bivand Erdal's supervisors have been Jørgen Carling (PRIO) and Kristian Stokke (University of Oslo).
The dissertation consists of three single-authored and two co-authored articles, plus an extensive foundation chapter. Three of the articles have been accepted in international peer-reviewed journals and two are currently under review.
The examiners highlighted Marta Bivand Erdal's success in bringing new perspectives to well-established fields of research, notably the study of remittances and of immigrant integration. The dissertation brings out the complex inter-household and intra-household dynamics of remittance transfers as a corrective to traditional approaches. Within the study of integration, Marta Bivand Erdal's principal contribution is to examine migrants' own understanding of, and active relation to, the politically normative concept of integration.
After completing her doctoral research, Marta Bivand Erdal worked primarily on the project "Possibilities and Realities of Return Migration (PREMIG)," in which she plays a leading role.