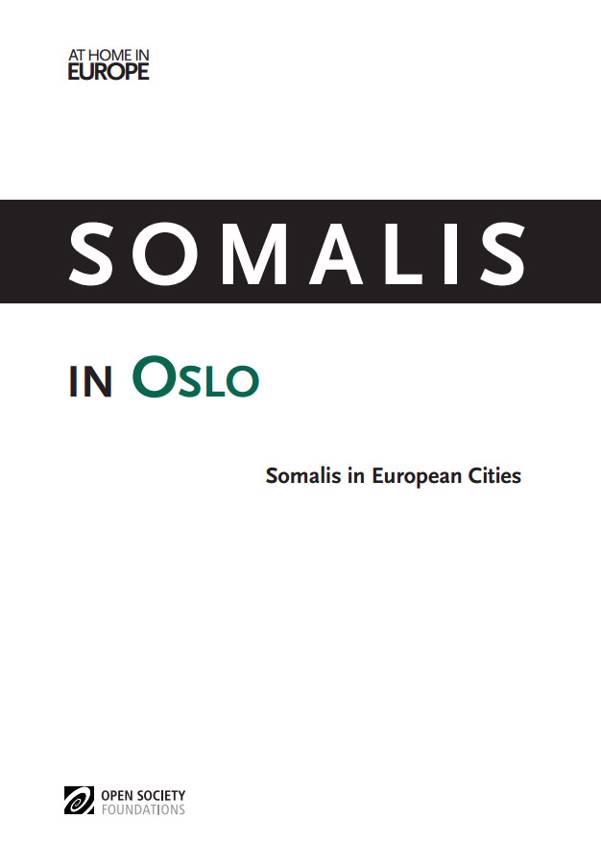 The Somalis in Oslo report, based on a study conducted by PRIO researchers and launched today by the Open Society Foundations, finds that civic and political participation of Norwegian-Somalis in Oslo is strong but inclusion is undermined by poverty and negative media coverage.
Click here to read the report.
OSLO— Developing Oslo's vibrant and dynamic Norwegian-Somali civil society organizations and strengthening their engagement with the city of Oslo is key to Norwegian-Somalis' full and equal participation as residents of Oslo.
Poverty remains one of the single greatest barriers to Norwegian-Somali inclusion in Oslo. This leads to challenges in education, employment, housing and health and is further exacerbated by negative portrayals of Somalis within the Norwegian media.
The report Somalis in Oslo, launched today by the Open Society Foundations, finds that the emphasis on formal qualifications within the Norwegian labour market together with discrimination in hiring processes are leading to high rates of Somali exclusion from employment in Oslo. To overcome the gap between the demands of the Norwegian labour market and the limited formal qualifications that many Somalis have upon entering Norway, the report recommends better emphasis be placed by employers and employment agencies on making more out of the actual skills and experiences of individuals.
"Our research shows that many Norwegian-Somalis are active and enthusiastic participants in Norwegian society but this willingness can only take them so far; practical steps are needed to strengthen labour market inclusion, support Norwegian-Somali organizations and to combat negative media bias."
Nazia Hussain, director of Open Society Foundations' At Home in Europe project which developed the research.
In addition to practical challenges, Somalis in Oslo finds that Norway is still coming to terms with a new Norwegian identity that can include those who have backgrounds from outside of Norway. This is particularly important for young Norwegian-Somalis—80 percent of second generation Somali immigrants in Norway are under the age of 10—who feel a sense of exclusion acutely.
Somalis in Oslo recommends that the city of Oslo, which has developed robust policies for managing inclusion, and others concerned with inclusion such as the Norwegian Labour and Welfare Administration, the Directorate of Integration and Diversity and the Ministry of Children, Equality and Social Inclusion, strengthen their engagement with Somali and other minority communities. The research advises that Norwegian-Somali civil society organizations build their skills and improve collaboration to help better cross-community engagement. To tackle unemployment among Norwegian-Somalis, the research recommends government and civil society organizations address language needs, invest in mentor programs and offer help to Norwegian-Somalis on recruitment and employment practices.
"The report Somalis in Oslo is a very interesting review of the experiences and opinions of the Somali community in Oslo. The report points to important issues like labour market inclusion. We highly welcome such new insights, and we believe they can provide support for our efforts to become a more inclusive city, offering better opportunities for everyone."
Vice Mayor Hallstein Bjercke
For more information or media queries please contact Eleanor.Kelly@opensocietyfoundations.org or + 44 755 7900 697
NOTES:
Somalis in Oslo is part of a seven city research series, Somalis in European Cities, by the Open Society Foundations' At Home in Europe project which examines the realities of people from Somali backgrounds in Amsterdam, Copenhagen, Helsinki, Malmo, Leicester, London, and Oslo.

The report used qualitative research methods, including interviews with key stakeholders at the city and national level, focus group discussions with Somali residents and existing expert analysis. The research for this report was carried out from the beginning of December 2012 through to the end of October 2013

The At Home in Europe project, part of the Open Society Foundations, works to advance equality for groups that are excluded from mainstream civic, political, and cultural life in a changing Europe. At Home in Europe advocates for change with grassroots civil society groups, policy makers, practitioners and residents in 17 cities in Western Europe.

The report "Somalis in Oslo" is launched by the Open Society Foundations in partnership with PRIO (Peace Research Institute Oslo). The lead researcher for this research is Cindy Horst with help from research assistants Faiza Kassim, Brandon Baumbach, Marian Hussein, Hawa Muuse and Sundus Osman. Open Society Foundations are solely responsible for the content of the report.