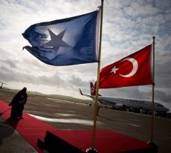 Turkey has become a prominent humanitarian power, contributing more than $1 billion in aid in 2012. This makes it the fourth-largest government donor. The top three countries receiving Turkish assistance are Syria, Pakistan and Somalia.
This NOREF policy brief examines Turkey's engagement with Somalia, a country with which Turkey has not had long-standing foreign relations such as with Pakistan, or a border refugee crisis, as it is presently experiencing with Syria. What is the motivation for Turkey's involvement in Somalia? How does Turkey engage with the humanitarian project differently from traditional donors and what are some of the challenges it faces in so doing?
The Policy Brief can be downloaded at NOREF's website.