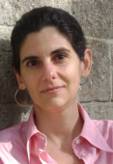 Julieta Lemaitre is one of the 51 magistrates who will sit on the various courts of the Special Jurisdiction for Peace (JEP) in Colombia.
Lemaitre, who is also an Associate Professor of Law at Universidad de los Andes in Bogotá, has collaborated with Kristin B. Sandvik at PRIO and the Norwegian Centre for Humanitarian Studies since 2009.
The JEP is Colombia's new transitional justice system designed to investigate and prosecute members of the FARC, the military, the police as well as civilians suspected of committing crimes during the decades of conflict in Colombia.