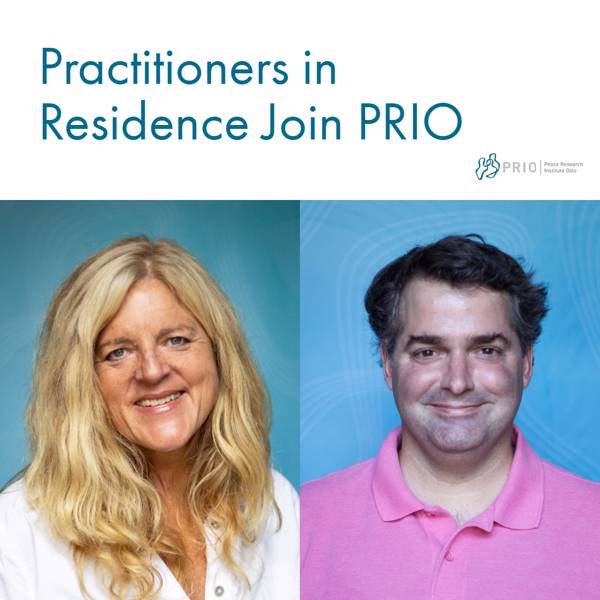 One of PRIO's strategic goals is to develop innovative peace research programmes that respond to the most pressing issues of our time. Starting in autumn 2019, therefore, PRIO has launched a Practitioners in Residence programme aimed at creating an arena for mutual engagement and learning between key practitioners and PRIO researchers.
The first two practitioners are Hilde Frafjord Johnson and Borja Paladini Adell, both of whom will stay with PRIO until the end of 2019.
Hilde Frafjord Johnson served as Norway's Minister of International Development for two terms (1997-2005). She played a key role in the Sudan peace negotiations that led to the Comprehensive Peace Agreement in 2005 and was the Special Representative of the UN Secretary-General and head of the United Nations Mission in South Sudan 2011-2014. Johnson was subsequently appointed as a member of the UN Secretary-General's High-Level Independent Panel on Peace Operations (2015-2015). As part of her political career in Norway, Johnson was an elected Member of Parliament from 1993-2001 and was Secretary General of the centrist Christian Democratic Party of Norway (2016-2019).
Borja Paladini Adell has headed the Kroc Institute's Colombia team, where he has led the institute's work verifying and monitoring the implementation of the Colombian peace agreement. This is the first time a research institute has received this kind of mandate, which is usually reserved for the UN. Prior to this, he worked for the United Nations Development Programme in Colombia for over ten years, where he coordinated several important processes and programmes and advised regional and national governments and the Colombian president on peacebuilding and violence prevention. He has also been a guest lecturer on peacebuilding practice at various universities and collaborated closely with the Norwegian Ministry of Foreign Affairs' Colombia team.
Practitioners in Residence participate in the life of the institute, sharing their knowledge and expertise through seminars, workshops, PRIO Policy Briefs, blog posts, and mentoring to younger colleagues such as master's students and PhD candidates. A practitioner should be understood here as anyone currently or recently engaged in practical peace work. We look forward to the insights that our practitioners will contribute to the ongoing development of PRIO research.