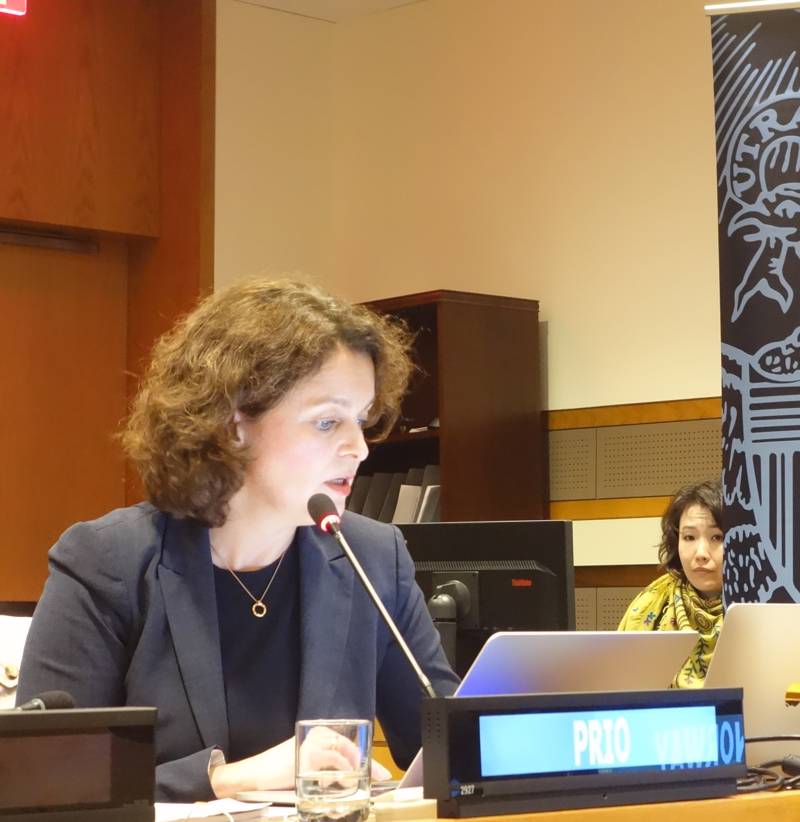 The second edition of the Global Women, Peace and Security Index was successfully launched at United Nations Headquarters in New York on 22 October. The Index has been developed by the Georgetown Institute for Women, Peace and Security (GIWPS) in collaboration with the PRIO Centre on Gender, Peace and Security. PRIO GPS Centre director Torunn L. Tryggestad spoke at the event.
The WPS Index, provides important insights into patterns and progress on women's well-being and empowerment around the world across three dimensions; inclusivity, justice and security. Several innovations this year have enhanced the value of the Index. Improvements in data availability have expanded coverage to 167 countries — encompassing more than 98 percent of the world's population. The Index also assesses data at the subnational level for three of the most populous and most diverse countries: China, India, and Nigeria. The analysis of changes over time reveals the key drivers of progress as well as major areas of concern.
While just two years have passed since the inaugural WPS Index was published, major insights can be draw from recent trends. There have been significant recent advances in women's wellbeing around the world, but progress is still too slow, and uneven across dimensions and countries.
The launch was co-hosted by the Permanent Mission of Norway to the United Nations, the Permanent Mission of Uruguay to the United Nations, the Georgetown Institute for Women and Peace and Security and the Peace Research Institute Oslo.
Speakers:
Ambassador Melanne Verveer, Executive Director, Georgetown Institute for Women, Peace and Security (chair)
H.E. Ambassador Mona Juul, Permanent Representative of Norway to the United Nations
H.E. Ambassador Carlos Daniel Amorín Tenconi, Permanent Representative of Uruguay to the United Nations
Dr. Jeni Klugman, Managing Director, Georgetown Institute for Women, Peace and Security
Sarah Hendriks, Director Policy and Programs, UN Women
Dr. Torunn Tryggestad, Director, PRIO Centre on Gender, Peace and Security (closing)