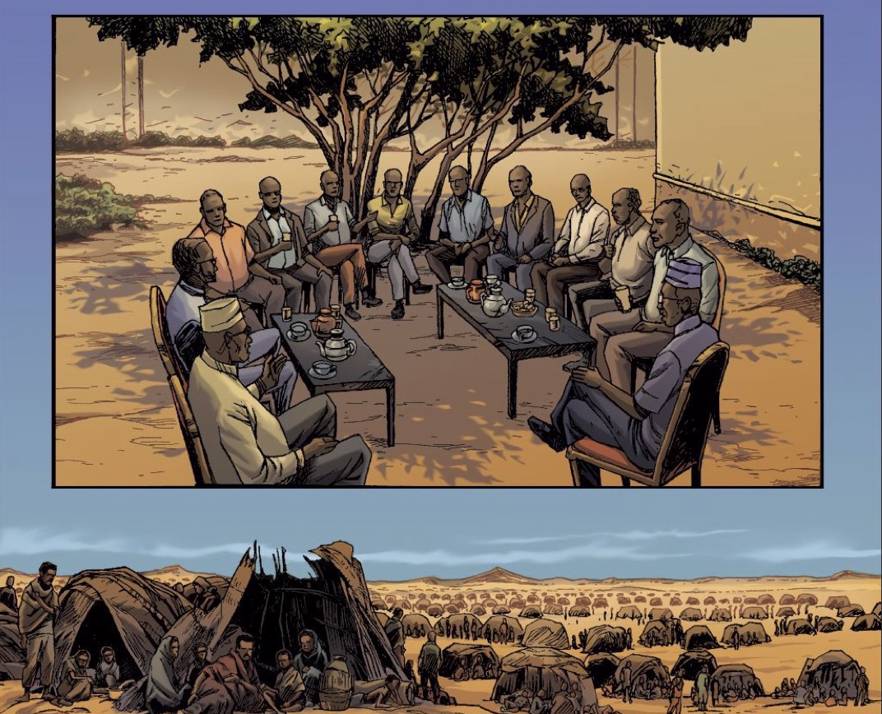 PRIO is proud to share a five-part comic based on the true story of the Uffo group made in collaboration with PositiveNegatives. Available in both English and Somali, these graphic narratives explore how brave actions by small groups of people can inspire collection action and societal change.
'Uffo' in Somali, means the sweet-smelling wind before the rain. It is also the name of a group of young professionals in Hargeisa, who mobilised to address serious negligence in the social sector in what was then Somalia in the 1980's, by restoring a hospital. This was both a humanitarian activity responding to the acute suffering of patients, and a way of resisting the oppressive policies of the regime. When the professionals were arrested a few months later, it was the spark that ignited and inspired others, especially youth and women, to protest the regime openly.
The comic was created based on research by Doctoral Researcher Ebba Tellander and produced by PositiveNegatives for the Societal Transformation in Conflict Contexts (TRANSFORM) project, led by Research Professor Cindy Horst. Based on rigorous research using life story interviews, the comic was made in collaboration with the Uffo professionals, researchers, creative storytellers and artist Pat Masioni. At every part of the process, scripts, character sketches, storyboards and artworks were sent to the Uffo group for their comments and approval.
Despite its historical importance, the story is little known. Doctoral researcher Ebba Tellander explains: "We can all learn and draw inspiration from stories of people who care for others and resist oppression with the risk of their own lives. Such stories are often overlooked in both the media and much research on conflict zones. I hope this comic drawn from real life experiences, will challenge our pre-conceptions about African history and inspire us to care for others in challenging times". The story highlights the politically explosive potential of acts of solidarity and social justice in processes of societal transformation.