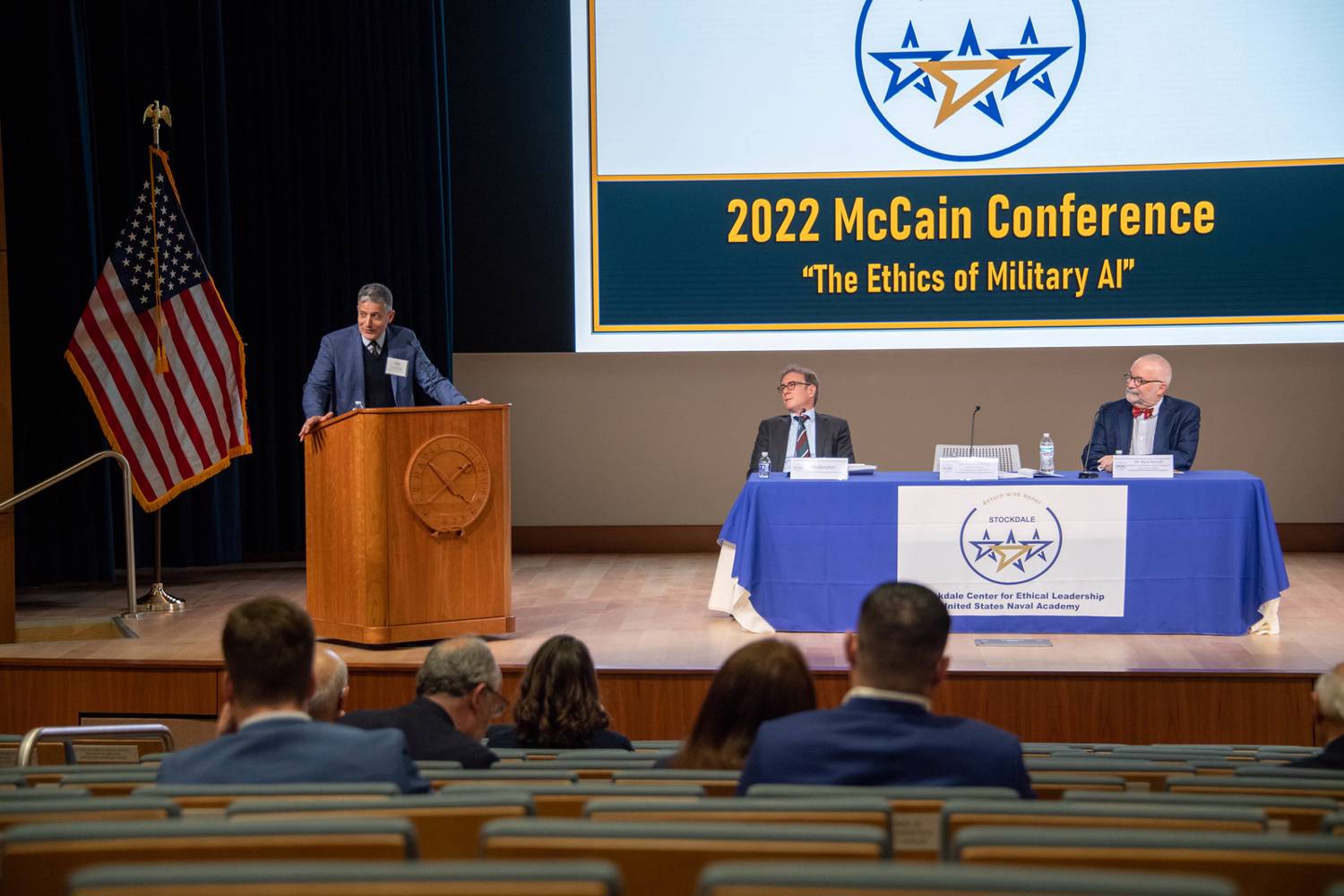 PRIO researchers Greg Reichberg and Henrik Syse spoke last week at the United States Naval Academy's annual McCain Conference on military ethics.
This year's two-day event focused on the ethics of AI military applications. Included among the speakers were Lt. Gen. Michael S. Groen, Director of the Joint Artificial Intelligence Center; Dr. Paul Scharre, author of Army of None: Autonomous Weapons and the Future of War; Brett Vaughan, Chief AI officer of the U.S. Navy; Lt. Col. Joe Chapa, Chief Responsible AI Ethics Officer for the Department of the Air Force; Jennifer Edgin, Assistant Deputy Commandant for Information, Headquarters Marine Corps; Dave Barnes, Chief AI Ethics Officer, U.S. Army AI Integration Center; Mitt Regan, Professor of Jurisprudence, Georgetown University Law Center; Missy Commings, Professor of Electrical and Computer Engineering, Duke University; and Jovana Davidovic, Associate Professor of Philosophy, University of Iowa.
The conference was organized by the Naval Academy's Stockdale Center for Ethical Leadership, in association with PRIO's project Warring with Machines: Artificial Intelligence and the Relevance of Virtue Ethics.
2022 McCain Conference: "The Ethics of Military AI"
        ![2022 McCain Conference: "The Ethics of Military AI"](https://cdn.prio.org/cdn_image/624489d3fd9e4fd2b30c58d8801acccb.jpg?x=720&y=480&m=Scale)
        

Henrik Syse on panel at 2022 McCain Conference. Photo: U.S. Navy / Kenneth D. Aston Jr