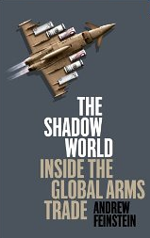 Today, PRIO organized the seminar **What's Wrong With the Arms Trade and What To Do About It.**The seminar featured Andrew Feinstein, who has recently written the book The Shadow World Inside the Global Arms Trade.
Those speaking at the seminar were:
Andrew Feinstein - The global arms trade: its impact on democracy, development and security.
Øystein Rolandsen, PRIO - The effects of arms proliferation on Sudan and the Horn of Africa.
Nicholas Marsh, PRIO – Steps to reform the arms trade.
Kristin Sandvik, who works at PRIO on drones, cyber war and humanitarianism, chaired the seminar.
Andrew Feinstein was an ANC member of South Africa's parliament (including as a member of its public accounts committee) until he resigned in 2001 in protest at the ANC's refusal to allow an independent and comprehensive enquiry into a multi-billion dollar arms deal which was tainted by allegations of high level corruption. His account of the deal, the corruption, its cover up and his attempts to investigate it are the subject of his first book After the Party: A Personal and Political Journey Inside the ANC.
In 2011 he completed The Shadow World Inside The Global Arms Trade which details corruption, criminality and destruction found in the global arms market.
The book details how the fixers and executives of the western world's largest arms companies used bribery to seal multi-billion pound deals. It shows how those deals have undermined accountable democracy, socio-economic development, and human rights, and led to immeasurable suffering across the war zones of the world.