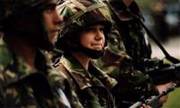 Note the change of date!
Closing the gender gap in the armed forces follows directly from the United Nations Security Council Resolution 1325 on Women, Peace and Security (2000) as a means to integrating gender perspectives in international operations and is increasingly regarded as essential for operational effectiveness and force protection.
Although increasing the number of women in the Norwegian Armed Forces has been a political goal since the late 1980s, the growth is slow and Norway is falling behind in comparison with other NATO countries.
In this seminar, the main speaker Anita Schjølsetcompares recruitment and retention strategies with female military participation across NATO countries and discusses the role recruitment of women nationally play for international missions.
The seminar will be chaired by Kristian Berg Harpviken. Gunhild Hoogensen (University of Tromsø) will act as discussant.
Please register with seminar@prio.no if you want to take part in this event.