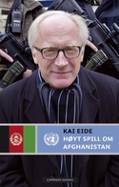 PRIO inviterer til seminar om Kai Eides nye bok, "Høyt spill om Afghanistan", som er en frtittalende beskrivelse av hans to år som FNs øverste mann i Afghanistan.
Toppdiplomaten Kai Eideer for tiden tilknyttet PRIO.
Mer informasjon om dette seminaret vil følge.
Kai Eide vil gi en presentasjon av sin bok, etterfulgt av kommentarer og debatt.
Kommentarer: Harald Stanghelle, Aftenposten og Anne Kristin Sydnes, Kirkens Nødhjelp.
Seminaret vil bli ledet av Kristian Berg Harpviken.
This seminar will be conducted in the Norwegian language.