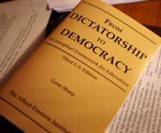 ​Gene Sharp's book From Dictatorship to Democracy has inspired numerous non-violent uprisings against dictatorships around the world. Now a film has been made about his incredibly topical work. The screening of the film will be followed by a Q&A session.

Please follow this link for more information.
Tickets may be ordered here.
​
The screeing 7th February is SOLD OUT.
Alternative day for screening of film: 10th February.

The film screening and Gene Sharp visit, is an initiative by Human Rights Human Wrongs, in collaboration with Noref, Amnesty and PRIO.