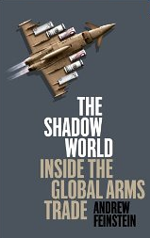 ​PRIO invites you to a seminar on What's Wrong With the Arms Trade and What To Do About It. The seminar will feature Andrew Feinstein, who has recently written the book The Shadow World Inside the Global Arms Trade. ​​
Those speaking will be:

 

 

 

 

The book details how the fixers and executives of the western world's largest arms companies used bribery to seal multi-billion pound deals. It shows how those deals have undermined accountable democracy, socio-economic development, and human rights, and led to immeasurable suffering across the war zones of the world.