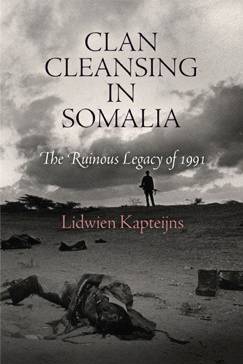 PRIO is hosting a seminar with Professor Lidwien Kapteijns where she will present her recent book Clan Cleansing in Somalia: the ruinous legacy of 1991 published in 2012 at University of Pennsylvania Press.
In 1991, a coalition of clan-based armed opposition groups forced out of power the long-standing Somali military government of Siad Barre. Different factions enjoyed the following power vacuum to develop their influence and gain exclusive control over the country. Through terror and manipulation of ethnic sentiment, some militia groups succeeded to trigger communal violence and clan cleansing within the Somali population. Using contemporary poetry, oral interviews, news reports and radio recording, Lidwien Kapteijns provides in her book an in-depth reflection on the relationship between history, truth, and post-conflict reconstruction in Somalia. Documenting the organization and intent behind the campaign of clan cleansing, Kapteijns challenges the dominant literature on the Somali civil war and establishes that public acknowledgment of the ruinous turn to communal violence is indispensable to social and moral repair in Somalia.
Lidwien Kapteijns is Professor of History at Wellesley College, MA, United States. She spent several years working in Sudan, Somalia, Djibouti and Ethiopia. Her research focuses on the social history of Northeast Africa, and more specifically Sudan and Somalia, during the pre-colonial, colonial, and post-independence periods. She is the author of *Women's Voices in a Men's World: Women and Tradition in Northern Somali Orature, 1899-1980 (*Heinemann, 1999) and has recently co-edited with Annemiek Richters the book Mediation of violence in Africa: Fashioning new futures from contested pasts (Brill, 2010) in which she wrote the chapter "Making memories of Mogadishu in Somali poetry about the civil war" (pp. 24-75).
Discussants:
Cindy Horst, Senior researcher, Social Dynamics Program, PRIO
Hilde Katrine Haug, Postdoctoral fellow, Department of Literature, Area studies and European languages, University of Oslo
*Chair:*Øystein H. Rolandsen, Senior researcher, Conditions of Violence and Peace program, PRIO