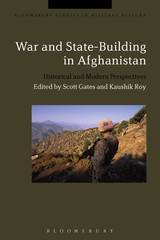 Book launch seminar with Scott Gates & Kaushik Roy (editors), Kristian Berg Harpviken, Pavel Baev, Anne Stenersen, Karsten Friis, Marianne Dahl and Håvard Mokleiv Nygård.
War and State-Building in Modern Afghanistan provides an overall synthesis of British, Russian, American and NATO military activities in Afghanistan, which directly links past experiences to the current challenges. These timely essays are particularly relevant to contemporary debates about NATO's role in Afghanistan; do the war and state-building policies currently employed by NATO forces undercut or enhance a political solution? Read more by following this link.
A light lunch will be served from 11:30.