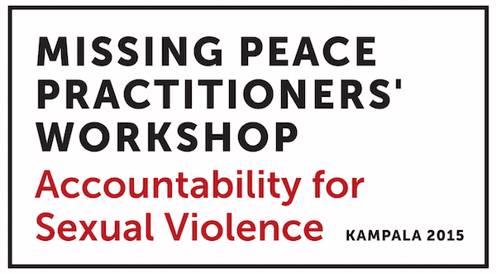 As part of a global movement to end wartime sexual violence, more than 70 legal, health, and law enforcement leaders from six African countries will meet in Kampala, Uganda, August 26–28, for the Missing Peace Practitioners' Workshop.
The workshop provides a rare opportunity for frontline responders — from Kenya, Liberia, Sierra Leone, Uganda, eastern Democratic Republic of the Congo, and South Sudan — to discuss their work on the ground and to trade the tools and techniques they use to document and prosecute sexual violence and support survivors.
Read more about the workshop here.
http://www.ugandafund.org/grants/call-for-proposals/30-uganda-updates/latest-news/111-missing-peace-practitioners-workshop-accountability-for-sexual-violence
PRIO is co-organizing this workshop, together with the Human Rights Centre of the UC Berkeley School of Law, the Uganda Fund, the US Institute of Peace, and WIIS.
A summary of the workshop is featured in the PRIO Gender, Peace and Security Update Issue 3-2015, available to read here.