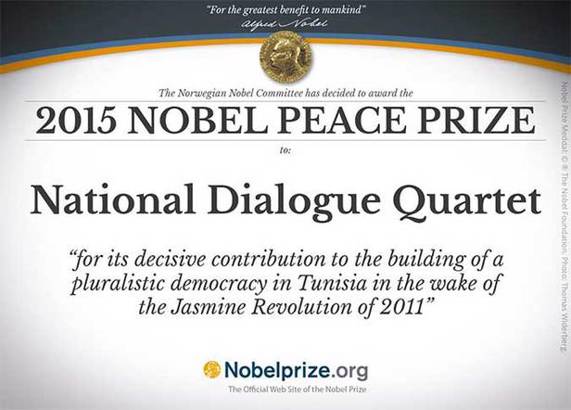 This event will be streamed live on this page at 08:30!
The Nobel Peace Prize 2015 will go to the Tunisian National Dialogue Quartet for their contribution to building a pluralistic democracy in Tunisia.
In this breakfast seminar, we will discuss the many facets of dialogue processes – with regards to Tunisia as well as elsewhere. The day before the award ceremony of the Nobel Peace Prize it is fitting to contemplate:
What is a National Dialogue?
Are National Dialogues replacing traditional peace mediation?
What does the Nobel Peace Prize mean for the democratic process in Tunisia?
What are the implications for other peace processes, in Colombia, Myanmar, Syria and beyond?
Key contributors:
Hannes Siebert, Common Space-UNDP. Hannes Siebert is an international peace process and negotiations adviser and facilitator, who is known for his work on national peace and dialogue structures, the role of media in conflict resolution, authentic negotiations processes and local/regional conflict interventions in several countries. @HannesSiebert
Ghazi Gherairi is a lecturer-researcher in public law and political science at the Faculty of Judicial, Political and Social Sciences of Tunis, University of Carthage. He also teaches at L'institut diplomatique de Tunis and at Tunis School of politics. He was an Constitutional expert for the national dialogue (2013-2014), Secretary-General of the International Academy of Constitutional law, Member and spokesman of the high instance of realization of the achievement of the revolution's goals, of political reform and of democratic transition, and General Coordinator of the Averroès Foundation for democracy and progress. @GhaziGherairi / www.aidc.org.tn
Chair:
Kristian Berg Harpviken, PRIO Director
@harpviken
A light breakfast will be served.
Press inquiries: Iver Kleiven ivekle@prio.org - tel +47 993 42 800