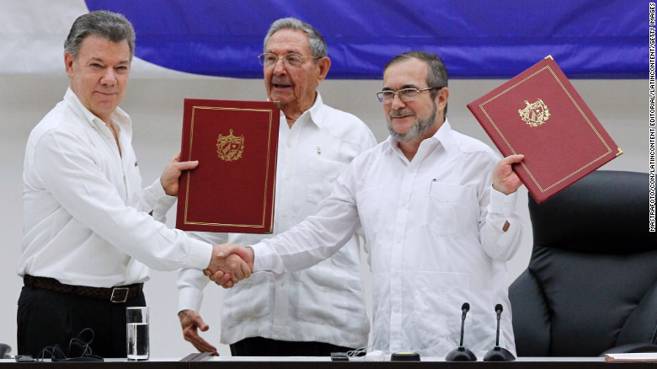 On 30 September, UiO, HiOA, NMBU and PRIO/NCHS will host a breakfast seminar about Colombia at Litteraturhuset. In light of the new peace agreement signed between the FARC rebels and the Colombian government, and also the upcoming 2 October referendum, five social scientists in Norway will discuss the content of the peace agreement and their expectations of the future of Colombia. All are welcome to attend, no registration is necessary.
Please note: this event will be held in Norwegian, with one presentation in English.
Bakgrunn
FARC geriljaen og regjeringen i Colombia har undertegnet fredsavtalen. Fire års forhandlinger tilrettelagt av norske diplomater krones med fred. Partene signaliserer at konflikten er over uansett utfall av folkeavstemningen søndag 2. oktober der det kun er anledning til å svare JA eller NEI til et 297 siders avtaledokument med ambisiøse politiske målsetninger for samfunnsutviklingen framover. Tre millioner hektar skal deles ut til fattige og delvis beslaglegges fra mellomstore og storbønder uten formelle eiendomsretter til jorden. Staten finansierer store utviklingsprosjekter på landsbygda. FARC garanteres 5 plasser i begge kongressens to kammere i 10 år framover uavhengig av stemmetall, og ledelsen slipper fengsel. Vil Colombianeren stemme for avtalen? Vil politikere i framtiden respektere og implementere avtalepunktene? Fem samfunnsforskere i Norge som har fulgt fredsprosessen presenterer avtalens innhold og deres forventninger for framtiden.
Program
«Nedlegging av våpen og ofrenes rettigheter» Jemima Garcia-Godos (Førsteamanuensis, Institutt for sosiologi og samfunnsgeografi, Universitetet i Oslo)
«Integrert reform på landsbygda» Henrik Wiig (Forsker, Høgskolen i Oslo og Akerhus)
«Ressursrettigheter og utvikling etter konflikten» John McNeish (Professor, Internasjonale miljø- og utviklingsstudier/Noragric, Norges miljø- og biovitenskapelige universite)
«Kvinner i fredsprosessen» Kristin B. Sandvik (Førsteamanuensis, Institutt for kriminologi og rettssosiologi, Universitetet i Oslo / Peace Research Institute Oslo)
«Arguments and appeal in the NO-campaign» David Rodriquez Goyez (Stipendiat, Institutt for kriminologi og rettssosiologi, Universitetet i Oslo)
NB: Kaffe og rundstykker serveres fra kl. 07:45