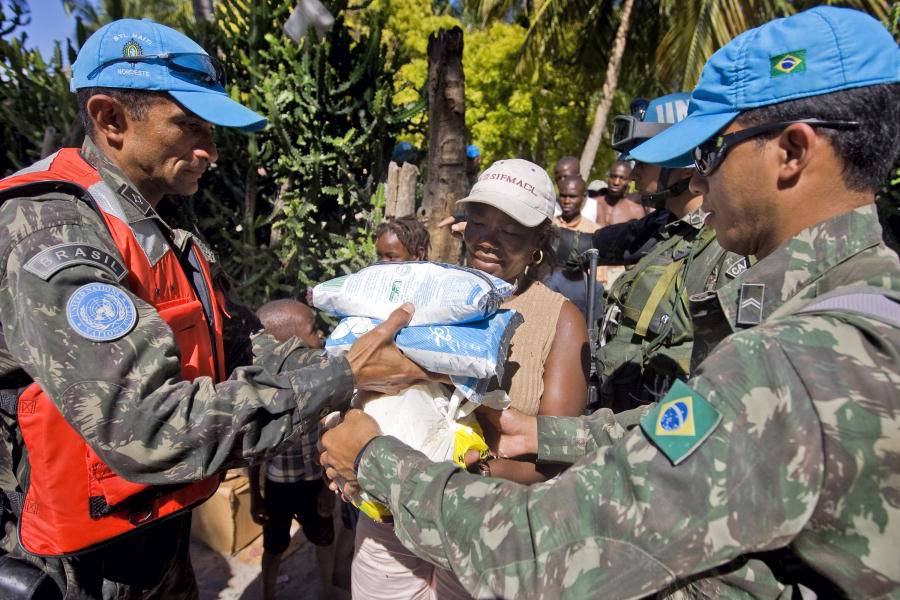 On 29 August, a conference hosted at Peace Research Institute Oslo (PRIO), co-hosted by the Norwegian Centre on Humanitarian Studies (NCHS), will discuss Brazil's involvement in humanitarian efforts. The conference marks the formal end of the project Brazil's Rise to the Global Stage (BraGS), and has as its main goal to disseminate research findings from the project.
A light lunch will be served during the conference.
Background
In the last two years, Brazil has been through a political roller coaster, from the now well-known Lava Jato corruption case, to the impeachment of President Rousseff, and now recently with the investigations against President Temer. Amidst a deepening economic crisis, this has also led to massive popular protests. This reality is in stark contrast with the international image of Brazil just a few years back.
Brazil represented a source of hope, a promising force among the so-called emerging powers and the BRICS. Its economy was booming, and so were international expectations towards Brazil. In addition to its successes in combating domestic poverty, Brazil was also praised for its increased involvement in matters of international peace and security, through its investment in UN peacekeeping operations, notably in Haiti, and engagement in international cooperation, and notably South-South relations. The humanitarian aid budget of Brazil increased steadily and considerably in the years of the Lula presidency and until 2012. It has decreased sharply since, along with the economic crisis. Although there are indications now that Brazil may be moving out of the economic recession, its political imbroglio seems to be set to last for still some time.
Where is Brazil now and how does this affect its international ambitions? What are the current signals in terms of Brazil's willingness to play a role in the region and beyond? What can be expected, as the economic situation (hopefully) continues to improve?
In this final conference of the BraGS project, we propose to shed light on the current situation in Brazil, while also taking a broader scope on Brazil's international ambitions and engagements in the last decade. The project, Brazil's Rise to the Global Stage (BraGS), has sought to understand the drivers behind Brazilian humanitarian action and participation in peacekeeping and peacebuilding activities. As a new player in the field of humanitarian assistance, Brazil brought a new form of moral and strategic motivations to the table. However, humanitarian action has also served Brazil's regional and international ambitions as a rising power. Through its engagement, Brazil has sought to reconceptualize both humanitarianism and peacekeeping, in line with its more principled stance on sovereignty, non-intervention and less conditionality. This final conference will take a closer look at the drivers behind these international engagements, how they have materialized in practice, and what have been the impacts, before concluding with reflections on what to expect ahead.
Program
12:00-12:30 – Light lunch served
12:30–12:50 – Opening and welcome
Welcome, Maria G. Jumbert, Research Director, PRIO
Opening and introduction, Ambassador George Monteiro Prata, Brazilian Ambassador to Norway
12:50-13:30 – Keynote speech
Brazil – Current political situation and what to expect ahead, Paulo Esteves, Professor at the Institute of International Relations, PUC-RIO, and Director of the BRICS Policy Centre
13:30–13:45 – Coffee break
13:45–14:35 – Paper presentations (10 min each)
14:40-15:00 – Discussion/ Q&A
15:00–15:15 – Coffee break
15:15–15:45 – Roundtable discussion: What to expect for the way ahead for Brazil's international cooperation
Chair: Maria G. Jumbert (PRIO)
Paulo Esteves (PUC-RIO and BRICS Policy Centre)
Monica Herz (PUC-RIO and BRICS Policy Centre)
Kjersti Rødsmoen (Director, Latin America section, Norwegian Ministry of Foreign Affairs)
Contact
Contact amacel@prio.org with any questions.