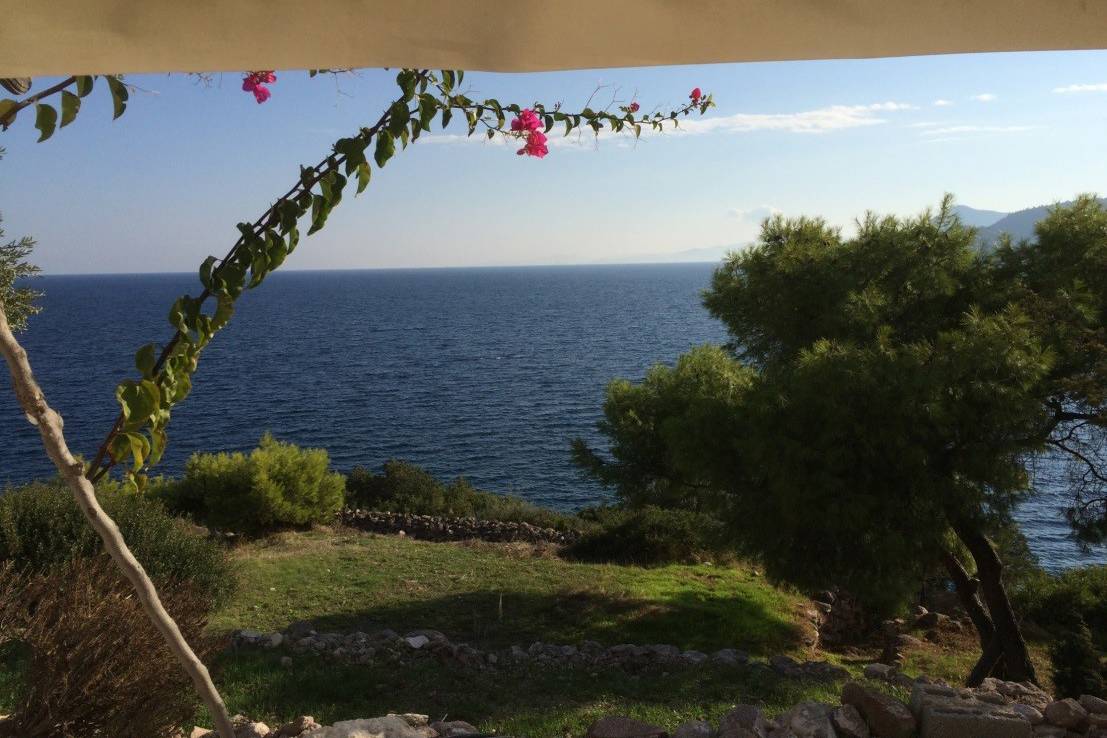 In a hectic work environment, sometimes it's hard just to take a deep breath, focus, and think. A change of scenery and a slower pace can inject your writing with renewed purpose.
Our retreat combines writing sessions with group discussions and one-on-one coaching. (Separate full program and information sheet available). Emphasis is on giving you time and space to write in a supportive environment.
Details
Facilitators: Lynn P. Nygaard (PRIO) and Kristin Solli (OsloMet)
Where: Kavos Bay Hotel, on the Greek island of Aegina.
Costs: All-inclusive room and board is NOK 9500. If you wish to bring your partner or friend and share a room, the second person pays 4700. You arrange your own travel both to Athens and to Aegina. The costs for room and board will be invoiced from PRIO at a later date.
Note: PRIO will cover half the costs of the room and board for PhD students at PRIO.
Schedule:
Sunday
	Travel day: First to Athens, and then to Aegina island

19:00-20:00 Introductions: Presentation of group members; discuss goals for retreat
20:00 Dinner
Monday, Tuesday, Thursday and Friday
08:00-09:00 Breakfast
9:00-12:30 Morning session
	09:00-10:00 Write

	Break

	10:15-11-15: Write

	Break

	11:30-12:30: Write

12:30-14:00 Free time
14:00-15:00 Lunch
15:00-20:00 Afternoon session
	15:00-16:00 Write

	Break

	16:15-17:15 Write 

	Break

	17:30-18:30 Write

19:00-20:00 Group discussion
20:00 Dinner
Wednesday
08:00-09:00 Breakfast
9:00-10:00 Write
10:15-14:00 Excursion to temple
14:00-15:00 Lunch
15:00-20:00 Afternoon session
	15:00-16:00 Write

	Break

	16:15-17:15 Write 

	Break

	17:30-18:30 Write

19:00-20:00 Group discussion
20:00 Dinner
Saturday
08:00-09:00 Breakfast
9:00-12:30 Morning session
	09:00-10:00 Write

	Break

	10:15-11-15: Write

	Break

	11:30-12:30: Write

12:30-14:00 Free time
14:00-15:00 Lunch
15:00-20:00 Free time or early departure
20:00 Dinner
Sunday
07:30 Breakfast and departure
Writing sessions:
On most days, the program has 2 three-hour writing sessions, with breaks. (These sessions are not mandatory – you are of course free to work from your room or anywhere else). The pavilion will be set up so we can do the sessions outside (tables, chairs, and WiFi are available). You may also use the time to read. The purpose of having structured writing sessions as a group is so we have the benefit of positive peer-pressure (it is easier to focus and be self-disciplined if you see other people around you doing the same thing) as well as ensuring that we get enough breaks. Regardless of whether you are reading, writing, or just thinking, the pavilion should be quiet during the specified writing times, but we are free to talk during the breaks.
Group discussions:
The group discussions will take place before dinner. These are meant to be informal gatherings where we can unwind after the day's efforts, enjoy a glass of wine (or other beverage) and talk about things related to writing. There will be no formal presentations or lectures, but rather an opportunity to reflect as a group about things that concern us all as writers and academics. Topics might include:
• Target journals
• Feedback
• Co-authoring
• Stress/inadequacy
• Motivation
• Getting ideas
• Time management
• Distractions
Coaching:
Each participant is entitled to one 1-hour coaching session from Lynn or Kristin. The coaching can involve commenting on a draft, or simply discussing writing-related challenges. The sessions take place during the afternoon in a different part of the hotel.
Unscheduled time:
Note that there is a long break in the middle of the day. You are strongly encouraged to take advantage of this time, or the time before breakfast, to take walks, jog, do yoga, or swim. And if you would like an extended break to visit the town, just let one of the facilitators know. The local town of Agia Marina is about a 20 minute walk from the hotel.
Excursion:
The facilitators will guide an excursion to Aphaia temple on Wednesday morning. The temple is about a 40 minute (uphill) walk from the hotel. It is one of the best preserved ancient temples in Greece, and has its own museum. After viewing the temple, we can have refreshments at the café before walking back.
Meals:
Kavos Bay is a family-run hotel, which means meals are family style, based on traditional Greek cuisine. If you plan to miss a meal because you would like to eat somewhere else on the island, or have special dietary requirements (or preferences), please let me know so we can inform the cook. Mealtimes are somewhat later than many of us are used to, but the rooms all contain a small refrigerator and you can save some food from breakfast if you like, or buy yourself some snacks from town.
Things to bring:
• Swim wear and beach towel (snorkeling equipment if you have room in your luggage!)
• Shoes you can wear to walk down to the water, or even in the water (very rocky, sharp lava stone)
• Good walking or running shoes
• Yoga mat (if you are interested in doing yoga)
• Mosquito spray
• Light jacket or sweater for evenings
Travel hints:
Athens is an international airport with connections all over the world, so you can fly in from many destinations. From the airport, you need to get to Piraeus (the harbor in Athens). There is an express bus from the airport (X96) that leaves every 20 minutes and takes about 1 hour; you find the bus between exits 4 and 5 at the arrivals level and purchase your ticket from the kiosk nearby (not on the bus). Otherwise, the metro is also an option (although you have to transfer at some point).
There are several different ferries from Pireaus to Aegina, all of which leave from Gate 8 at Pireaus (See http://www.aeginagreece.com/aegina-island/boat-timetables-aegina-boat-information-aegina/). The fastest one is the hydrofoil (Flying Dolphin), which takes 40 minutes; the larger ferries take about twice as long. Both of these options bring you to the far side of the island (Aegina Town), and will require a taxi to Kavos Bay. The Evoikos Lines, which takes about an hour, will take you Agia Marina, which is much closer to the hotel and is the recommended option when available (although it stops running at the end of the tourist season).
The fall can bring unpredictable weather, and if the waves are too high the ferries (especially the hydrofoils) will be unable to dock, which may make travel between Aegina and Piraeus difficult. Please keep in mind that we may have to leave the island earlier than scheduled (possibly spending a night in Athens) should the weather result in ferry cancellations.
Please make sure your travel insurance is up to date.