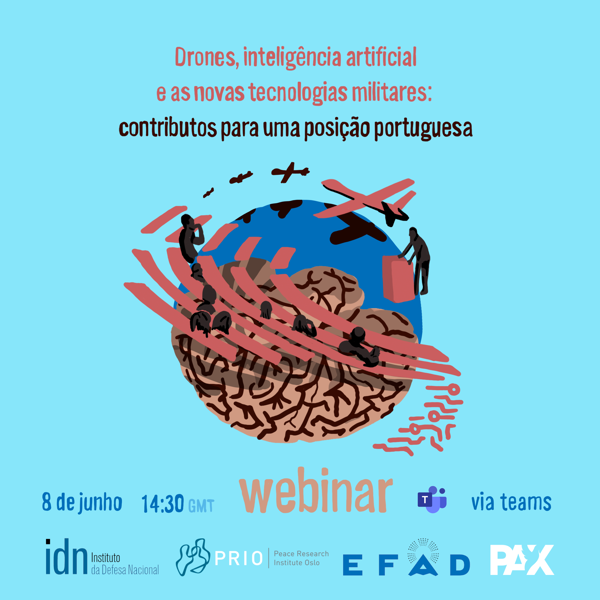 This event will be held in Portuguese. It is part of a series of webinars organised by PRIO and the European Forum on Armed Drones, a civil society network of organisations working to promote human rights, respect for the rule of law, disarmament and conflict prevention.
Lisboa: 8 de Junho, 14:30 – 16:00
Note: this event takes place 15.30-17.00 Oslo time, and one hour earlier Lisbon time.
Organização conjunta:
European Forum on Armed Drones
Peace Research Institute Oslo
Instituto da Defesa Nacional
Algumas das novas tecnologias que actualmente existem num contexto militar colocam desafios políticos, éticos e legais tanto às forças armadas como à sociedade como um todo. A natureza ampla destes desafios requer que tanto a sociedade civil como o poder político sejam chamados a participar num debate em torno do uso de drones armados, inteligência artificial, robótica, e outros novos sistemas tecnológicos.
As novas tecnologias têm um impacto na sociedade que nem sempre é fácil de antecipar. As relações civil-militar contemporâneas são marcados pela crescente importância das tecnologias de duplo uso e pela participação de unidades civis de I&D no desenvolvimento de tecnologias que podem ter aplicação num contexto militar. Actualmente é mais comum que nova tecnologia originária do contexto civil seja aproveitada num contexto militar (spin in) do que o fenómeno oposto (spin off).
Estas dinâmicas têm dado a origem a várias iniciativas regulatórias por parte de diferentes estados e também de organizações internacionais tais como a ONU e a UE. Este webinar tem como principal objectivo contribuir para um debate em torno da definição de uma posição portuguesa quanto a estes diferentes temas, num contexto internacional marcado por rápidas transformações geopolíticas e tecnológicas.
Programa
Abertura: Helena Carreiras, Directora, Instituto da Defesa Nacional
Moderação: Ricardo Alexandre, TSF
Palestrantes:
Almirante Gouveia e Melo, EMGFA
Tenente-Coronel Paulo Sacramento, Direção-Geral de Política de Defesa Nacional
Eng. Ricardo Mendes, Tekever
Bruno Oliveira Martins, PRIO
When you register you will receive a Teams link to the event the day before. The event can also be accessed here.