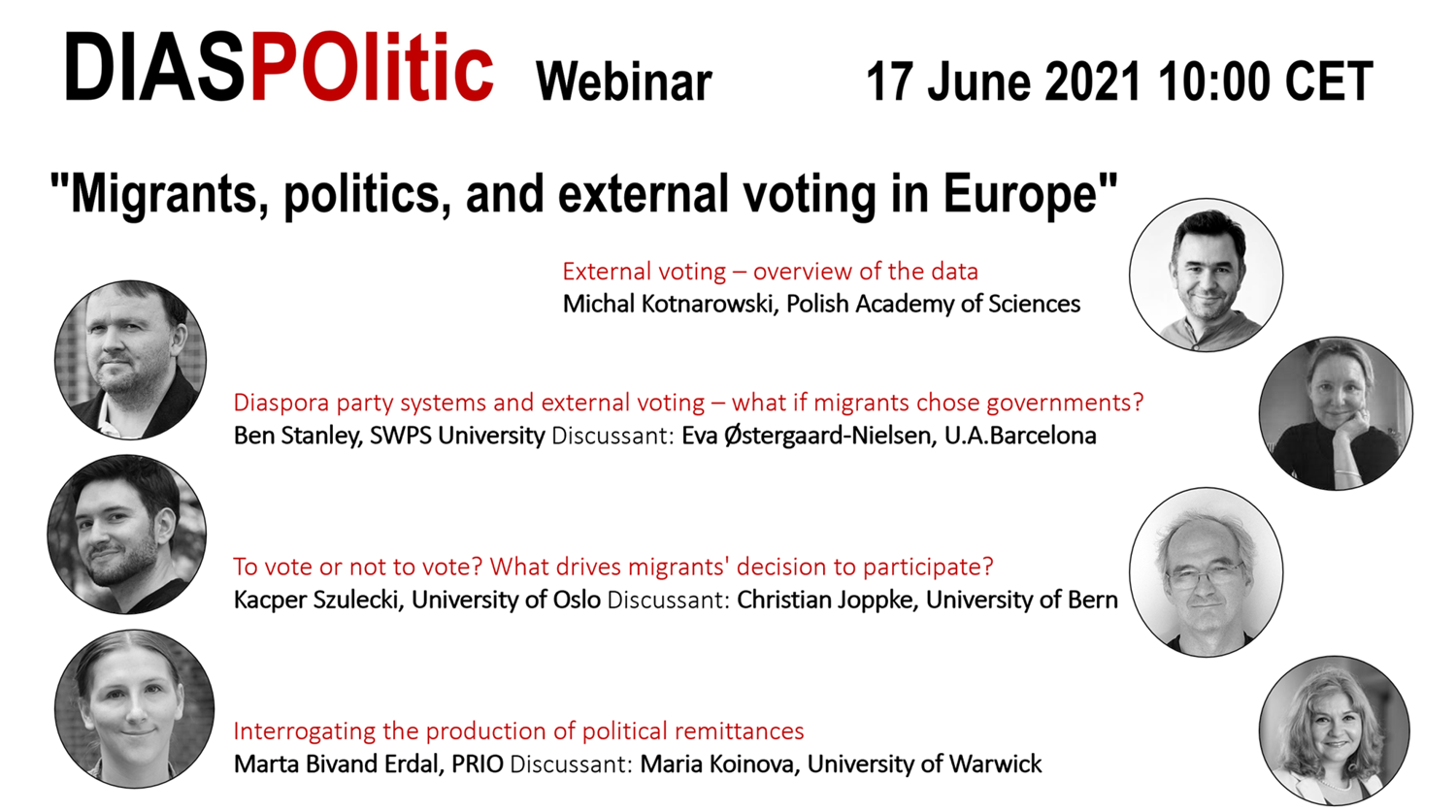 Why do emigrants continue to vote in origin country elections? What governments would Central and East European countries have if you only counted the migrant vote?
Join us for a a webinar showcasing the results of the DIASPOlitic research project which analyzed the reasons for and patterns of migrant political engagement with origin countries - focusing on Central and Eastern European migrants living in Western Europe. Project research presentation and comments from invited discussants, as well as opportunities for audience engagement.
Please register in advance for this meeting:
https://uio.zoom.us/meeting/register/u5wkduGhqzsqGtw2WJxK13sEQBgPvdlH7e_y
Progam:
Welcome, introduction, the structure of the project – Kacper Szulecki, University of Oslo
External voting – overview of the data – Michal Kotnarowski, Polish Academy of Sciences, followed by a short Q&A
Diaspora party systems and external voting – what if migrants chose governments? – Ben Stanley, SWPS University – Discussant: Eva Østergaard-Nielsen, UABarcelona
To vote or not to vote? What drives migrants' decision to participate? – Kacper Szulecki, Uni. Oslo – Discussant: Christian Joppke, University of Bern
Interrogating the production of political remittances – Marta Bivand Erdal, PRIO – Discussant: Maria Koinova, University of Warwick
Q&A and General discussion
The Webinar "Migrants, politics, and external voting in Europe" is organized jointly by the University of Oslo, the Peace Research Institute in Oslo, and the SWPS University of Social Sciences and Humanities in Warsaw.
After registering, you will receive a confirmation email containing information about joining the meeting.