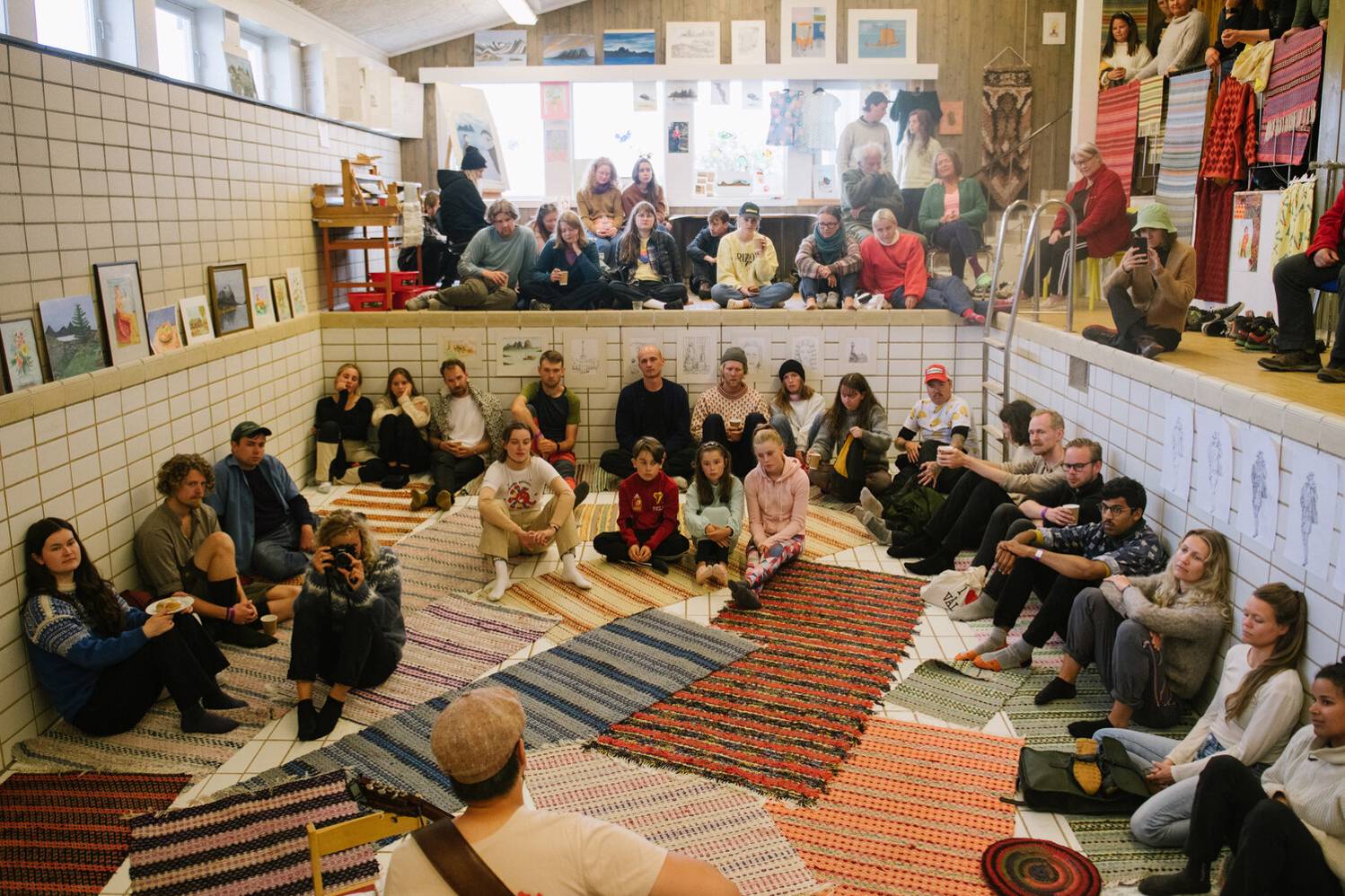 The PRIO Centre on Culture and Violent Conflict (CCC) invites you to a conversation on identity and cultural authenticity, followed by a double concert with violinist and composer Harpreet Bansal and guitarist, kora-player and vocalist Sankung Jobarteh.
Both internationally and domestically, discussions on who can be authentic performers and interpreters of culture are underway. They take many shapes, from critiques of ill-defined musical genres such as world music, to attempts at creating a specific research method rooted in Sámi identity to better study and understand Sámi heritage and artifacts. These debates have functioned as long-needed correctives to a situation where majority societies and individuals who are privileged based on gender, age and ethnic identity, have been the primary authorities on what is authentic and valuable in culture.
These ongoing debates pose dilemmas that are not easily answered. Do artists need to belong to a specific cultural tradition in order to properly understand and communicate it, meaning that only insiders can be truly authentic practitioners? Do artists find certain artistic traditions of different folkloric origins than their own to be "off limits"? How do musicians like Basal and Jobarteh, who both straddle different genres and traditions, relate to these questions?
After an introduction by CCC Director Cindy Horst, Harpreet Bansal and Sankung Jobarteh will engage in a conversation about these topics with PRIO Research Assistant and musician Mathias Hatleskog Tjønn. The final hour will be dedicated to musical performances by Bansal and Jobarteh, accompanied by Adrian Myhr on double bass and Tjønn on guitar.
The event takes place at PRIO in Hausmanns gate 3 and is free of charge. Welcome!
Harpreet Bansal
Harpreet was born in Oslo to Indian parents and started learning the ragas from her father before she could talk. She later studied at the Norwegian Academy of Music both in the European and the Indian tradition, and with time has become a composer as well as an instrumentalist. In her music, different styles and traditions are forged into what has been called «a unique and radical approach to the raga genre». She has performed worldwide as a soloist, with her ensemble Harpreet Bansal Band and in various collaborations. In 2020 she premiered her commission «Parvat», a 45-minute piece for soloists and symphony orchestra, with herself as soloist accompanied by The Norwegian Radio Orchestra (KORK). «Parvat» will be released on Lawo Classics winter 2022. Her album «Samaya» was nominated for Spellemannprisen/Norwegian Grammy for 2018. With her band she has also released the albums «Chandra» (2015) and «Movements» (2020) on the Jazzland/OKWorld label. For «Movements» she received the prestigious NOPA (Norwegian Society of Composers and Lyricists) Award for 2020.
Sankung Jobarteh
Gambian guitar virtuoso Sankung Jobarteh grew up with the griot tradition of West Africa and has been a leading performer and communicator of the modern Gambian music genre Afro-Manding for over 40 years. Sankung Jobarteh began his musical journey with his father, the renowned master of kora Amadou Bansang Jobarteh, and via marine pirate radios broadcasting from international waters off the coast of Gambia, he became acquainted with modern musical expressions such as pop, blues and jazz. The result is an innovative musical expression where both the guitar, the kora and the griot music have their place. The music also triggered his adventurous spirit and he embarked on a lifelong journey in search of the new music, a journey which led him to Oslo, where he since the 1980's has been an active and audible factor of the music scene, as an artist, bandleader, arranger and producer.
Mathias Hatleskog Tjønn
Mathias Hatleskog Tjønn is a musician and junior migration historian, splitting his time between his band Racing Heart, with two albums and an EP released to date, and working as a Research Assistant at PRIO on a range of migration-related projects. In addition, he occasionally works as a curator, scores visuals and DJ's. His digital home on the world wide web can be found at mathiastjonn.com.
Adrian Fiskum Myhr
Adrian is a bass player and guitarist based in Oslo, playing different genres ranging from free-improvised music to jazz, world music and pop. He. holds a master's degree from the Norwegian Academy of Music.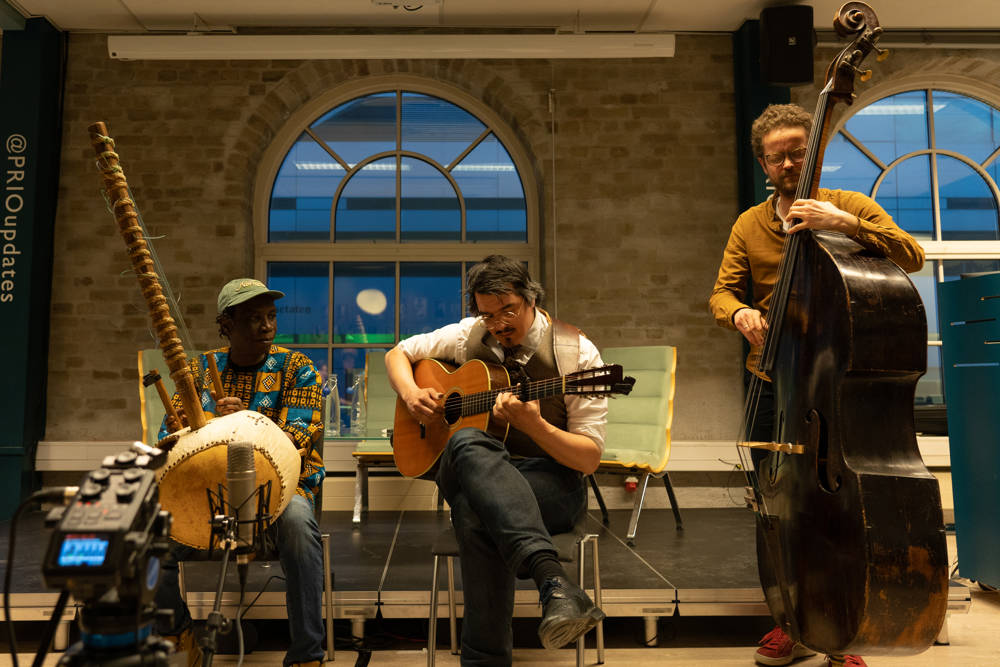 Sankung Jobarteh, Mathias Hatleskog Tjønn and Adrian Fiskum Myhr. Photo: PRIO / Georgina Berry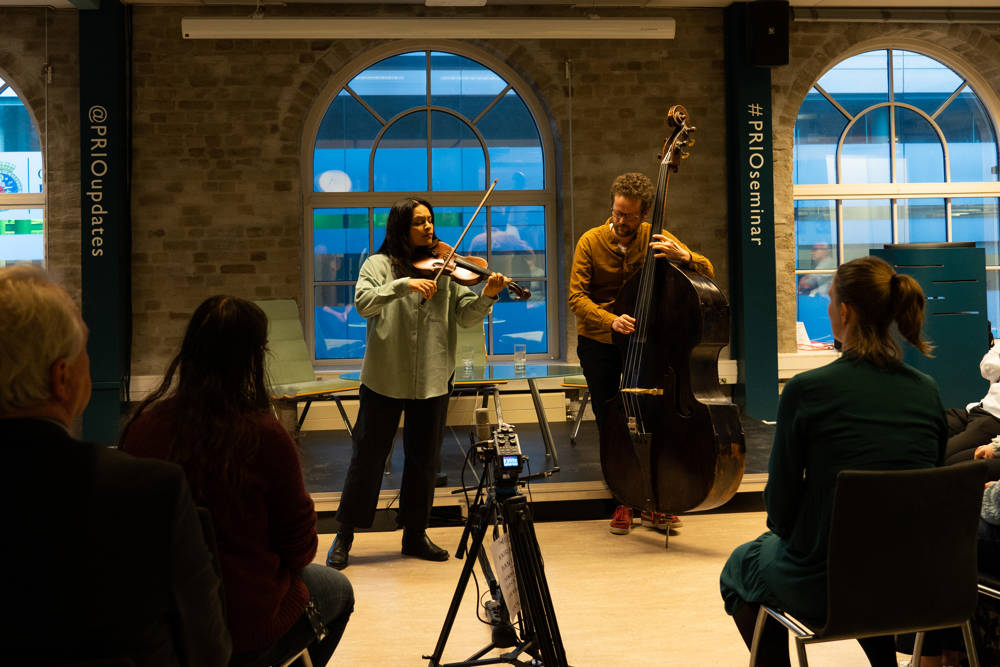 Harpreet Bansal and Adrian Fiskum Myhr. Photo: PRIO / Georgina Berry